A tanker truck carrying fuel overturned on Route 3 in Billerica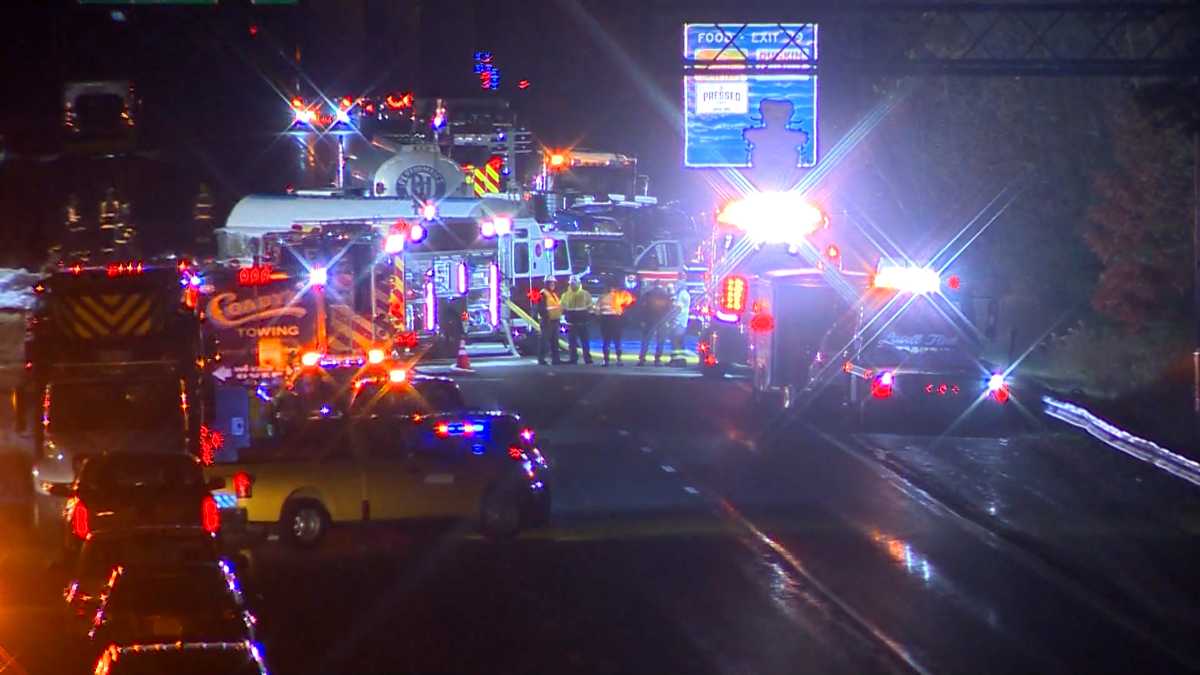 A portion of Route 3 was closed in both directions Wednesday after a tanker "carrying several thousand gallons of fuel" crashed and overturned north of Boston. Due to the fuel spill and pavement damage, the Massachusetts Department of Transportation (MassDOT) warned the closure could continue on the northbound side of Billerica through Thursday morning. The south side is expected to open sooner, but officials declined to estimate when they would be ready to make that move. The accident happened shortly before 10 a.m. on Wednesday. While flying over the scene, Sky5 saw the tanker, a damaged Tesla, and a damaged GMC pickup truck on the road. Fuel was seen leaking from the damaged tanker. >>5 Traffic Alert Maps According to MassDOT, northbound Route 3 traffic is being diverted at Exit 78 and southbound Route 3 traffic is being diverted at Exit 79. The ramps from I-495 to Route 3 are also closed. Motorists find another way to get around the area. Heavy traffic continued in both directions throughout the day. Video below: Extensive traffic backup operations continue into the evening, and several fire department teams were seen responding to the incident. At approximately 12:30 p.m., they were seen spraying foam on the fuel spill. According to state police, the response included hazardous materials teams. Shortly after 9:35 p.m., MassDOT shared on social media that the tanker had been removed from the scene and that crews had begun grinding the pavement because the road needed repair as a result of the accident. The company that owned the tanker said they were too busy to comment on the accident and refused to provide information about the driver's condition. Video below: Sky5 above the accident, fuel leak
Billerica, Massachusetts –
A portion of Route 3 was closed in both directions Wednesday after a tanker "carrying several thousand gallons of fuel" crashed and overturned north of Boston.
Due to the fuel spill and pavement damage, the Massachusetts Department of Transportation (MassDOT) warned that the closure on the north side of Billerica could last until Thursday morning. The south side is expected to open sooner, but officials declined to estimate when they would be ready to make that move.
The accident occurred just before 10 a.m. on Wednesday.
While flying over the scene, Sky5 saw the tanker, a damaged Tesla, and a damaged GMC pickup truck in the roadway. Fuel was seen leaking from the damaged tanker.
>>5 Traffic maps alert
According to MassDOT, northbound Route 3 traffic is being diverted at Exit 78 and southbound Route 3 traffic is being diverted at Exit 79. The ramps from I-495 to Route 3 are also closed. Motorists have been asked to find another route to get around Region.
Heavy traffic backups continued in both directions throughout the day.
Video below: Extensive traffic backups continue into the evening drive
Several fire brigades were seen responding to the incident. At approximately 12:30 p.m., they were seen spraying foam on the fuel spill. According to state police, the response included hazardous materials teams.
A little later at 9:35 p.m A post shared by MassDOT Social media reported that the tanker was removed from the scene and that crews began grinding the pavement because the road needed repair as a result of the accident.
The company that owned the tanker said it was too busy to comment on the accident and refused to provide information about the driver's condition.
Video below: Sky5 above the accident, fuel leak