BMW XM Label Red sets Pikes Peak record after June crash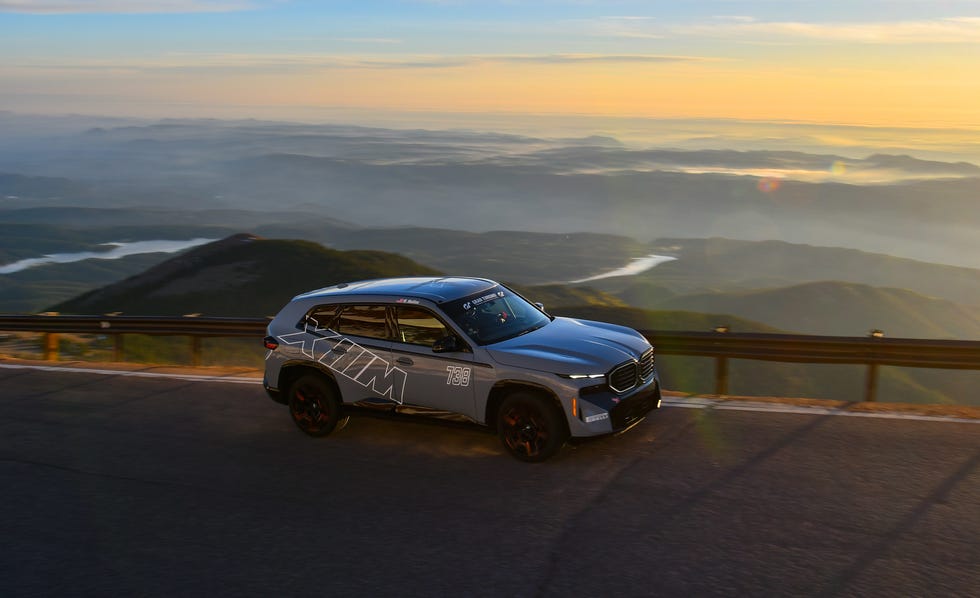 the BMW XM Label Red range A Class record for hybrid electric SUVs at the Pikes Peak hill climb course in Colorado Springs.
After suffering an accident during a hill climb event in June, Matt Mullins returned in September to run in an officially approved time of 10:48:60.
Mullins' new time beats the track day record set by the 2018 Bentley Bentayga by nearly 1.5 seconds.
On Tuesday, June 27, 2023, Matt Mullins lined up for the 101st run of the Pikes Peak International Hill Climb competition. His cart? The first ever BMW XM Label Red. The new SUV is BMW's most powerful production vehicle ever, producing 738 horsepower and 738 pound-feet of torque. That's more than enough to conquer the 156 turns on the hill climb course.
Unfortunately for BMW, and for Matt Mullins, his first attempt ended in him going off the track and crashing into a tree. This put an end to BMW's hopes of setting a new race day record with Label Red.
Second chances
In September, BMW and Mullins were back on track to set a new record for hybrid electric SUVs. Mullins raced the Label Red race over nearly 5,000 feet of elevation gain in a new best time of 10:48:60.
Reminiscent of the camouflaged Lamborghini Urus Performante that clocked a time of 10:32.064 in August 2022, Mullins' second run took place after the official hill climb. Therefore, it will not count towards your race day records, but is still considered an officially approved course.
The new time means the Label Red car is around 1.5 seconds faster than the 2018 Bentley Bentayga which currently holds the race-day and production SUV record with a time of 10:49.902.
To see behind the scenes at a competition like Pikes Peak, BMW sent a film crew to document Mullins and the team throughout the endeavors. The result is a two-part documentary that follows the Mullins' initial heartbreak in June, followed by the euphoria of achieving their shared goal in September. Parts one and two can be found on the BMW USA YouTube channel.
This content is imported from the survey. You may be able to find the same content in another format, or you may be able to find more information, at their web site.
Associate news editor
Jack Fitzgerald's love of cars stems from his unwavering addiction to Formula 1.
After a short stint as a detailer for a local dealership group in college, he realized he needed a more sustainable way to drive all the new cars he couldn't afford and decided to pursue a career in automotive writing. By shadowing his professors at the University of Wisconsin-Milwaukee, he was able to travel to Wisconsin in search of automotive stories before landing his dream job in Car and driver. His new goal is to delay the inevitable demise of his 2010 Volkswagen Golf.