Citroën holiday concept: a modern wolf in old sheep's clothing
Demand for recreational vehicles may be declining, but people still love to travel and work from the road. Citroen is looking to the future with optimism and plans to expand its foray into the world of vanlife – and the Type Holidays concept is here to provide an idea of ​​what comes next.
22 photos
Image: Citroen (combined)
The past three years have seen the RV market explode due to a combination of factors, including the international health crisis and the wave of restrictions it has sparked. The attempt to find alternative ways to travel has gone hand in hand with the rise of digital nomadism, downsizing and increased environmental awareness.
From mid-2023, manufacturers are announcing numbers that return to pre-2020 values ​​as the bubble bursts. This doesn't mean the Vanlife wanderlust phenomenon is going anywhere: families will continue to travel, and digital nomads will continue to work on the road, so demand remains high.
Citroen is proud to be the second largest supplier of motorhome vehicles in Europe and has plans to expand into the recreational vehicle market. They haven't said what those plans are yet, but they have a great teaser for it. It's called Citroen Type Holidays, an idea best described as a modern wolf in old sheep's clothing. Don't judge a book by its cover, and all that. This vintage-looking van wants to be a more comfortable and modern home for four people.
Photo: Citroen
Inspired by the iconic and extremely popular (in Europe) Type H, produced between 1947 and 1981), the Type Holidays aim to "Take the art of adventure and travel to new heights." It has a gray ribbed exterior, with a square front but an ultra-modern interior, with all the amenities of a motorhome, making it ideal for a family of four.
Just to be clear, Type Holidays is a concept, but not a hypothetical one. It's a one-off and supposedly functional.
Presented in late August at the 2023 Caravan Salon in Düsseldorf, Germany, it serves as a showcase of what Citroen has in store for a new range of campers that will be detailed soon, by the end of the year. Citroen says this, though: While the very nice exterior of the Type Holidays will remain a one-off, this interior will also be found in future campervans.
Photo: Citroen
The concept is based on the SpaceTourer, with equipment by Slovenian specialist Bravia Mobile. The result is a campervan that can seat four people and provide the essentials for an extended stay abroad or perhaps could work for one or two travelers as a long-term vanlife solution.
The Type Holidays stands out from afar with its new retro design featuring an angular front and a gray exterior that looks as if it's made of corrugated metal. The two sliding doors and tailgate allow the vehicle to open completely to the outside, letting in fresh air and providing passengers with surround views of wherever they stand.
As impressive and impressive as the exterior looks, it's the interior design that's important. When traveling for leisure or living on the road, you can do without the best truck, but you can't do without a practical car. Type Holidays is functional to the T, including a small kitchen and modular furniture that ensures a variety of activities at all moments of the day.
Photo: Citroen
For example, the front seats rotate to face the interior at dinnertime, creating a dining area for all four passengers. Open the ceiling to create standing height for washing dishes. Lower the table to join the two chairs, and you get a comfortable bed for two with two additional beds in the pop-up extension. Remove the chunky seats, and you've got room for truck cargo.
The type of malfunction is "Inspired by the idea of ​​freedom and participation" But it's been designed with detail and aesthetic considerations in mind so you get a camper that might qualify as camping – at least according to Citroen. Residents of Vanliver today may dispute this statement since there is no toilet or shower, except for the outdoor shower shown in the video presentation available below.
Citroen has not provided details on the design details, nor is there any information on any plans to that effect. However, they did mention that Bravia Mobile equipped the concept with a Webasto heating system and a complete kitchen, including sink, refrigerator and cooker.
Photo: Citroen
This cart "It heralds a stronger commitment from Citroën." to the RV industry, which includes the promise of comfort, roominess, ease of operation, minimal life on the road and a compact form factor. The association with the old H-Type goes beyond the exterior design; It brings to mind a time when a van was all a family needed for the perfect vacation.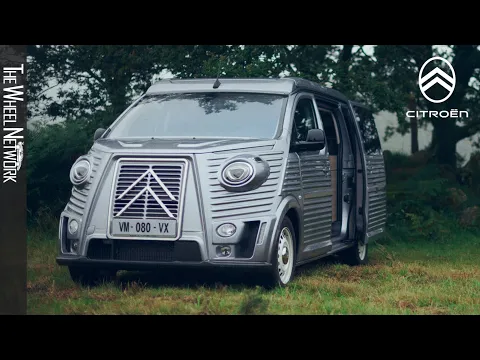 (Tags for translation)Citroen