Electric truck looks to snatch commercial crown from Toyota HiAce – Automotive News
Chinese commercial vehicle specialist LDV has set its sights on the Toyota HiAce with the arrival of its all-new eDeliver 7 electric van.
The eDeliver 7 is the younger brother of the popular LDV large Delivery 9 van, which is the segment leader and has been beating the Mercedes-Benz Sprinter year to date (until August) in sales.
The eDeliver 7 will be available in two different wheelbases and with two different roof height options in Australia to give the brand the ability to attract buyers from the HiAce, as well as the Ford Transit Custom, Hyundai Staria-Load and Volkswagen Transporter.
LDV Australia, part of the Ateco Group, will offer short wheelbase/low roof, long wheelbase/low roof and long wheelbase/mid roof options for the eDeliver 7.
There is also a higher roof version, but LDV has opted for the 'mid roof' alternative as the majority of the Australian truck market prefers vehicles under two meters in height (which is what the low and medium roof options represent).
The eDeliver 7 sits on a new modular platform that differs from the company's current V80 and G10 trucks.
The final specifications of eDeliver 7 have not yet been revealed.
The electric drivetrain consists of a 156kW/330Nm electric motor that drives the front wheels, while power is drawn from two battery options. The 77 kWh battery has a range of up to 300 km on the WLTP test cycle, while the 88 kWh battery pack extends this range to 364 km. LDV Australia has confirmed it will offer both battery options.
Initially, the eDeliver 7 will sit alongside the G10 and V80 vans in the LDV lineup, but it is expected to eventually replace both models when a new diesel model is introduced. This new option has been confirmed by LDV Australia Managing Director Dinesh Chinnappa, but no timing or specifications have been announced.
What has been confirmed is that both the diesel and electric versions of the truck will look identical, with a 'cubic' grille designed to ensure a sufficient amount of air is fed to the internal combustion engine while not negatively impacting the aerodynamics of the electric version.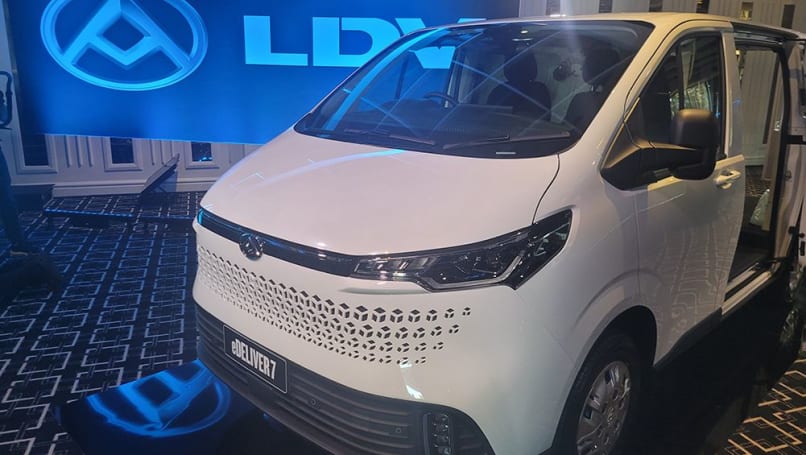 The eDeliver 7 will likely be priced between $80-90,000.
Chinnappa also explained that LDV Australia will opt for a high level of active safety features for the eDeliver 7, with the model available with autonomous emergency braking, adaptive cruise control, lane keeping assist, lane departure warning, blind spot monitoring, rear cross-traffic alert, and High beams, traffic sign recognition, and surround-view camera.
Final specifications and pricing for the eDeliver 7 have not yet been revealed, but it is expected to arrive in local showrooms by early 2024.
Pricing will likely be in the $80-$90,000 range, given that the larger eDeliver 9 starts at $116,537 before on-road costs.