Ineos Grenadiers announced they have extended the contracts of Omar Frayel, Salvatore Puccio and Brandon Rivera this week, bringing the number of riders confirmed for the 2024 season to 27 from a maximum of 30.
"You feel proud when you wear the shirt of one of the best teams in the world. There is pressure that comes with it, but it is something really special. I am very happy to continue for two more seasons with the team," said Friel.
The Spaniard has twice won the mountains classification of the Vuelta a España, and won this year's stage on the Ruta del Sol.
Astana Kazakhstan extends with Roof, signs Morocco, Kuzmin
Colombian Harold Tejada has another year with Astana Kazakhstan. The 26-year-old showed great promise after winning a stage of the Tour de l'Avenir in 2019, and signed for Alexander Vinokourov's team in 2020.
Tejada is starting to see some positives this year, with a 10th place finish at the Tour de Suisse and a podium finish at the Tour of Turkey, and Vinokourov is hoping he can continue the trajectory.
"After a number of difficult years, Harold started to achieve his first serious results last season. He is now increasingly climbing into the top 10 rankings on mountain stages, rode strongly in the Tour of Switzerland and had a beautiful Tour in Turkey. We hope he can do that," Vinokourov said. "We continue to move in the right direction. "Not only through good results, but also through victories."
Daniil Marukhin (24 years old) signed a two-year contract with the Kazakh project, while Anton Kuzmin signed a one-year contract. Kuzmin, 26, raced for Gazprom-Rosvelo from 2020 until the team disbanded.
Cristian Sparagli signs with Corratec-Selle Italia
After not extending his contract with Alpecin-Deceuninck, Italian sprinter Christian Sparagli has found a home with Corratec-Selle Italia.
"I can't wait for the 2024 season," Sparagli said on the team's website. "I thank the entire team for believing in my potential and for the trust placed in me, which I hope to repay with results next year."
Harry Tanfield to St Piran
Britain's Harry Tanfield has swapped teams for 2024, leaving TDT-Unibet for St Piran, to join his brother Charlie in the Continental outfit.
Harry Tanfield competed in WorldTour racing for three seasons, moving from Katusha to AG2R and Qhubeka before dropping back to the continental circuit first with Ribble Weldtite and then Unibet.
"I loved my time at TDT-Unibet, but the opportunity to return to a British team with a strong domestic and international programme, and try to do things differently is exciting for me," Tanfield said.
German Gomez is Iolo Cometa
Germán Gomez, 22, has signed a two-year contract with Iolo Cometa. The promising climber finished fourth in this year's Giro Next Gen while racing on GW Shimano-Sidermec.
"The Giro U23 has helped me push my confidence further, to show that good feelings are coming true. Seeing myself with the best riders is also important and helps me be more confident. All the great riders have shined in the Giro U23," said Gomez. "Generally."
O'Brien and Stewart contact Jayco Al-Ula
Australian Keelland O'Brien and New Zealander Campbell Stewart renew with Jaiko Al-Ula. The pair will combine their road ambitions with a focus on track racing ahead of the Olympic Games in Paris.
"Kel has developed very well over the last two years and it is very promising to see what he can do in the Spring Classics, he has been up there with the best riders," said technical director Brent Copeland. "Next year he will be competing in the Olympics which he is focusing on, but after that he will be fully committed to the road again and we are confident he will make great progress."
"Campbell is part of our sprint group, and he has that experience from the track, like Kell, he knows how to move in the group, and we can use him in a good way in that area of ​​the team next year whether it's with Blake (Caldwell), with Dylan (Groengen's) group ) Or now with Caleb (Ewan), he fits in very well. At the same time, we want to give him his own opportunity to go in some strong races where others are competing not racing, he showed what he can do with his big win in Croatia recently.
"Both riders add great value to the team roster, so it was important for us to see them continue to grow with us over the coming years."
Jelly Wallies are retiring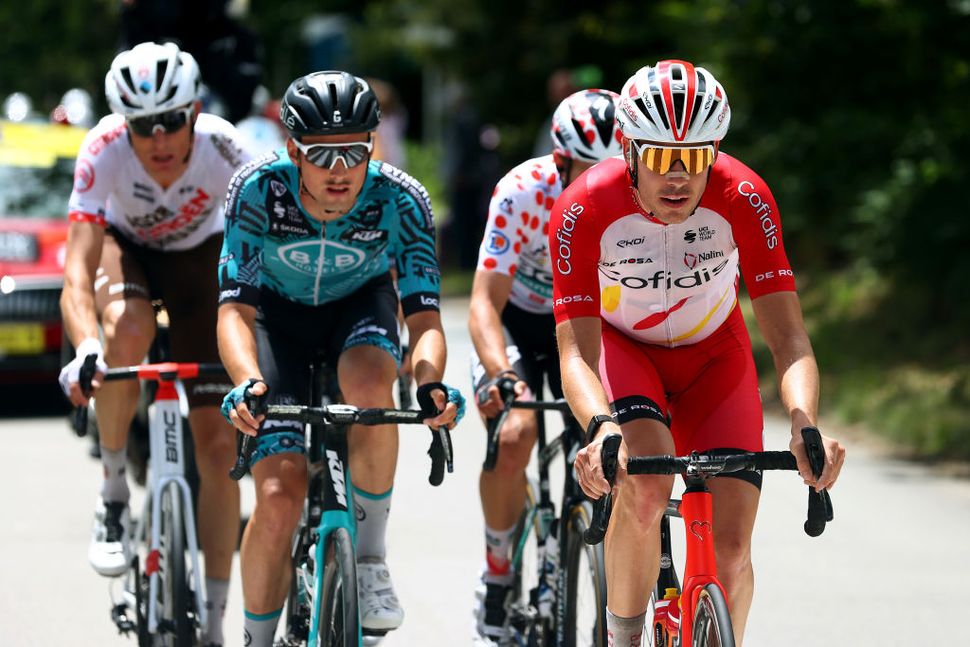 Belgian Gili Wallis announced his retirement on Instagram. The 34-year-old raced for six seasons with Topsport Vlaanderen before joining the WorldTour with Lotto Soudal, where he stayed for five years and finished with Cofidis from 2021.
"After 13 beautiful years as a professional cyclist, I have decided to retire from professional cycling. Over the years, I have achieved some great results, winning the Paris Tours twice (2014 and 2019), the Tours d'Or Vlaanderen (2015) and the stage prize in the Vuelta (2018).
"I have had a beautiful career full of highs and lows. I have made many great memories and gained a lot of experience; an experience that I would like to continue to share with the younger generation and the world of entrepreneurs, both inside and outside the cycling industry.
"Although I will be stopping professional cycling, I do not plan to stay still. I want to stay active and continue to set sporting goals (more on that soon). I am open to new opportunities and ready to take on new challenges. Of course, I will continue to run the accommodation hotel And my breakfast, I will continue to produce my own specialty coffee, and I am ready for whatever chapter comes next.
"I would like to thank all the people who have supported me over the years: my family, my friends, my fans… all the people who believed in me and gave me the opportunity to make a career of my passion. Thank you."
Lerberghe renews with Soudal-QuickStep
Belgian Bert van Lerberg is the 24th confirmed rider for the Soudal-QuickStep team for 2024. The 31-year-old leading man has extended his extension to Tim Merlier until 2025.
"I'm really happy to stay for another two years. The last four seasons have been really great and this team is not like others – it's like a family. I know my role as a local player and I want to do everything I can." "I can do that in the classics and in the sprints for Tim. I would like to do well in races like Ghent-Wevelgem and Paris-Roubaix for sure, to be in the final for both to help them win another classic."
Amauri Cabello renews with Arkéa-Samsic
Amaury Capiot's extension with Arkéa-Samsic, now Arkéa-B&B Hotels, follows a "disaster season", with the sprinter adding two years to his agreement after a season that saw him complete just 18 days of racing.
The 30-year-old underwent surgery on his right knee in March, then on his left knee in June.
Despite the difficult year, Arkéa-B&B believes in Cabello. "It's a sign of confidence. I feel very comfortable with this team. It feels like a bit of a second family. And I hope now I can get back to my old level again. This was already the case in the last round in Guangxi and that reassured me," said Cabello.
"In just a few years, Amaury has become one of the important links within the team," said team principal Emmanuel Hubert. "He is able to play in different roles. That is his strength. He can win if the opportunity arises, but he is also an important teammate. He is appreciated by everyone for his professional attitude and humble nature."