Gogoro launches the CrossOver E-Scooter with an off-road chassis and four luggage compartments
With there being a shortage of purpose-built scooters on the market, Taiwanese e-mobility specialist Gogoro has unveiled a new work-oriented two-wheeled electric scooter called the CrossOver SmartScooter. Described as a "two-wheeled SUV", the new e-scooter is a powerful machine ready to support the lifestyle of a wide range of riders, from urban commuters to small entrepreneurs.
Gogoro has been on the market since 2011 and is an industry leader thanks to its comprehensive approach to e-mobility. You may have heard of the Taipei-based company thanks to the Gogoro Network, an open battery swapping platform with more than 2,500 stations across the island that help power local urban electric vehicles, but the company also designs and manufactures its own line of electric vehicles. Scooters.
The new Gogoro CrossOver Smartscooter is the first all-new platform the company has unveiled this year, but it's based on the same network of swappable batteries. According to the company, the new electric scooter is all about customization and enhancing the ability to handle all types of terrain. It has a fairly rugged appearance with a sturdy frame and 5.6 inches (14.2 cm) of ground clearance.
The manufacturer says that its new scooter is SUVs On two wheels, mainly because the CrossOver is designed to provide much more utility than a standard electric scooter. The scooter is highly customizable and allows future customers to modify and adapt its configuration to better suit their needs and desires.
To enable this high level of customization, the CrossOver system comes with "New mounting point expansion system that includes 26 locking points." This means owners can equip the two-wheeler with a wide range of accessories and set it up for urban commutes, transportation duties or adventures off the beaten track. In addition to four built-in cargo compartments, passengers can equip it with front and rear luggage racks, a side rack, and a lightweight aluminum front basket.
Horace Locke, CEO of Gogoro, explains that the new scooter takes the existing DNA of their products and improves on it with an innovative new design. "Highlighted by new functional design features, enhanced performance, and the latest innovations, the CrossOver is focused on being personally customizable by every rider. The CrossOver is based on a completely redesigned all-terrain frame that enables increased rigidity while offering a variety of storage and ride capabilities," He says.
In terms of performance, the Gogoro CrossOver is designed using a liquid-cooled, centrally mounted G2.2 aluminum alloy permanent magnet synchronous motor, delivering a maximum power of 7.6 kilowatt (10 hp) and 196 Nm (145 lb-ft) of torque. The e-scooter also comes with Gogoro's proprietary Flo Drive belt drive system which provides a quieter and smoother riding experience.
Just like previous models from the company, the two-wheeler relies on swappable batteries compatible with the brand's extensive network of stations and is said to offer a range of up to 93 miles (150 km) at a speed of 19 mph (30 km/h). It rolls on 12-inch wheels wrapped in dual-purpose Maxxis rubber, and stopping the machine is a Synchronous Braking System (SBS) with hydraulic front/rear disc brakes, which is said to stabilize and shorten braking distance.
The company is also offering the CrossOver as a smart vehicle, so it comes with a host of smart features as well. This includes Bluetooth controls, app connectivity, LTE remote networking, and more.
Gogoro will launch the new e-scooter in its home market of Taiwan later this year, introducing two models – the CrossOver and the Crossover S. The former will be available in Desert White or Night Storm Grey, while for the latter customers will be able to choose from four color options: Myst Red, Summit Yellow, Desert White, and Night Storm Grey. There is no information regarding international availability at this time.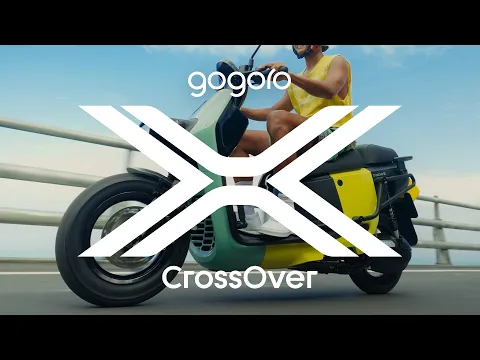 (Tags for translation)gogoro