Hercules Alpha: Everything is confirmed so far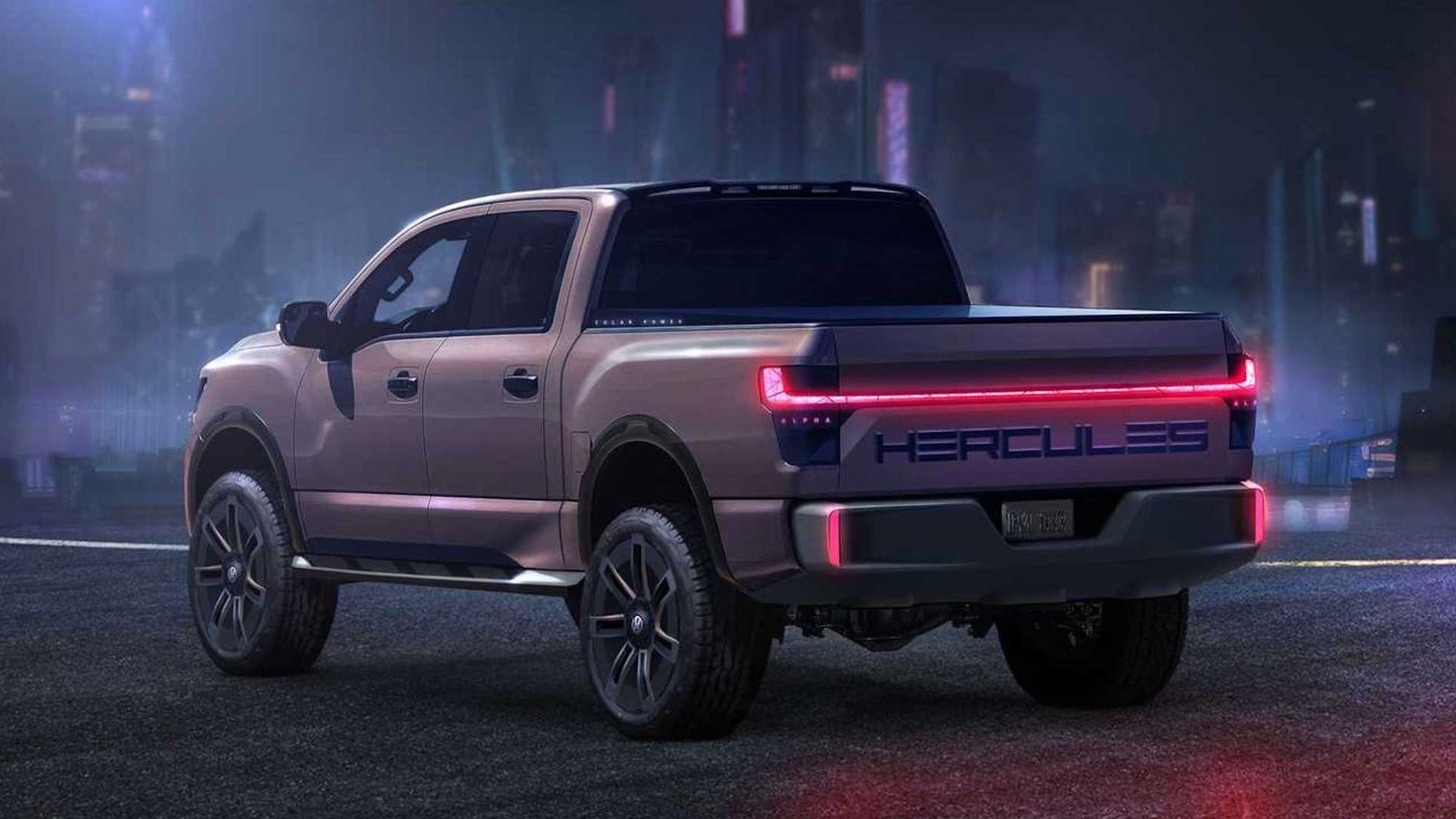 A series of electric vehicle startups have emerged over the past few years, bringing with them lofty visions of how to reinvent the electric vehicle industry and push the limits of performance to exceed expectations. In 2018, Hercules Electric Vehicles was launched in Detroit, Michigan, with the goal of "bringing customizable electric mobility products to market."
The Hercules Alpha, a four-door electric pickup truck, is set to hit the electric vehicle market in 2022 after Italian design firm Pininfarina entered into a partnership with the brand. However, after much delay, there is no clear path forward for production or set deadline for the electric truck to enter the EV arena.
With limited technical specifications released, there's not a lot of information to rely on. However, the small details teased by the company paint a picture of high performance standards that will make the electric truck market more competitive. From expanding Detroit's automotive heritage to premium styling to attract more audiences, the Hercules Alpha is something to look forward to.
RELATED: Every New Electric Truck You've Probably Not Heard About
In order to provide you with the most current and accurate information possible, the data used to compile this article was obtained from various manufacturers' websites and other reliable sources, including Autoweek, Pew Research Center, Ford Media, and Netcapital.
Hercules aims to get 1000 HP for Alpha
The vast majority of information about the Hercules Alpha remains under lock and key. However, the company has set high standards and teased some specifications for the Alpha model.
Alpha aims to obtain:
1000 hp
Range of approximately 300 miles
Towing limit of 12,000 lbs
Acceleration rate from 0 to 60 mph in just four seconds
While limited information is currently available and production has not yet begun, the Hercules Alpha's expected specifications offer plenty to get excited about. A 120 mph top speed and all-wheel drive with four massive electric motors would certainly shake up the electric pickup truck industry. While electric pickup trucks like the Rivian R1T offer faster acceleration speeds and longer range, the Hercules Alpha's expected specs will outperform the Rivian in terms of horsepower — the R1T has 665 horsepower — along with top speed and towing capacity.
Pricing estimates aren't quite available yet, so there's no telling where the Hercules Alpha model will land on the electric pickup price scale – or whether the price will accurately reflect the model's specifications. However, there is some breathing room and flexibility regarding the price. Current electric trucks on the market range from $40,000 to over $100,000.
Ultimately, there's some wiggle room for Alpha to make a case for a higher price, especially if the brand delivers on the specs side of things.
RELATED: The future of electric pickup trucks
Hercules electric cars go the traditional design route
The 100 percent electric four-door pickup has a host of custom design elements but doesn't try to reinvent the wheel when it comes to electric vehicle design. Simply put, the alpha model doesn't work unless it's broken to begin with.
In the age of hype around electric cars, it's no surprise that automakers are trying to do whatever it takes to set themselves apart from the crowd and do so through ultra-modern car design. It makes sense: With a future of self-driving electric cars comes a sense of utopia. However, when does high-tech architecture become banal and not cool? Hercules Alpha seems to stick with what works.
Alfa sticks to what works without looking too trendy
Without any obvious robot-like design elements, initial images of the Alpha look like most large pickup trucks — whether gas, hybrid or electric. While some customers may think the design choice doesn't set the emerging truck model apart from the masses, it seems to strike a balance that allows for a wider audience.
Convincing electric vehicle skeptics to drive around in a cyborg-looking pickup may not nudge them toward investing in an all-electric model in the future. But a traditional-looking pickup? This may be more attractive to more potential buyers. Despite its basic structure, the Hercules Alpha has touches of design elements that add an electrical and aesthetic flare.
For example, a large illuminated brand name extending across the front of the truck adds a unique lighting detail. The true design elements of the model are yet to shine as the car is supposed to be fully customizable, meaning customers can get as creative or conservative as they wish when choosing their Hercules Alpha.
RELATED: 10 Electric Trucks with the Best Range
Hercules is jumping on the electric truck trend
Pickup trucks are the latest vehicle to make a splash in the electric vehicle world, and the industry seems to be better for it. The off-road functionality and towing needs of pickup trucks mean that electric vehicle technology is challenged to further adapt to the performance needs of heavy-duty and heavy-duty trucks.
Despite assumptions, the demographics of EV and truck owners overlap
In a 2020 Ford Media survey of truck owners, 54 percent of pickup truck owners were men, with 18- to 34-year-olds making up the largest percentage of truck customers, with 55- to 64-year-olds second 20 years old. percent. In comparison, the Pew Research Center found that as of 2023, electric vehicles are more preferred among 18- to 29-year-olds in urban areas.
While electric cars may be a favorite among younger demographic audiences, the EV owner meltdown tells a different story. According to the Fuel Institute's Consumer Behavior Report, the average electric vehicle owner in 2020 was a 40- to 55-year-old man. With overlapping demographics in both the EV and pickup truck markets, it's no surprise that the EV truck scene is booming. Alpha aims to add to the hype.
RELATED: Why pickup trucks will be the best electric vehicles
How Hercules joins Detroit's plan for an electric future
As cities across the country set carbon neutrality deadlines, all eyes are on industry-heavy areas like Detroit. Ford and Chevrolet are just two of the automotive giants that call Michigan home.
As GM's hometown of Detroit sets a 2040 timeline for net-zero carbon emissions, it is essential to develop an electric vehicle growth strategy to meet that standard. Hercules joins the likes of Rivian, Bollinger Motors and Protean Electric in the heart of the U.S. auto industry to envision an electric way forward — and do so with a broad range of customers in mind.
The electric vehicle industry will make no dent in reducing gas vehicle emissions by only manufacturing SUVs or sedans. Instead, the industry is rapidly introducing a fleet of 100% electric pickup trucks from large-scale mass-production automakers and small electric startups. If the Hercules Alpha delivers on its tech spec promises and eventually enters the market, it will not only challenge expectations of electric trucks, but also those of gas-powered and hybrid pickup trucks.