Improved design, body and interior to revive the Subaru Forester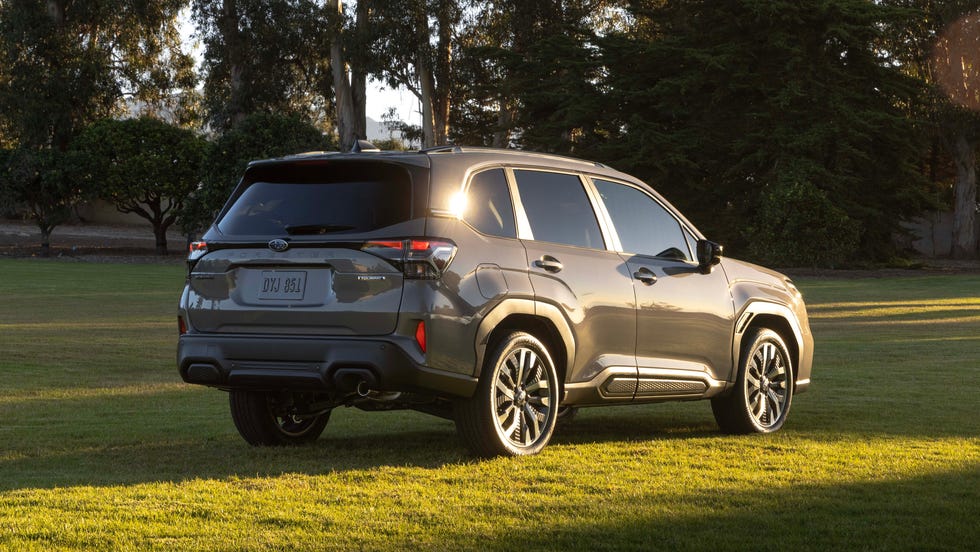 Subaru has been on a roll with its Crosstrek and Outback sales lately, and now the completely redesigned Forester unveiled at the Los Angeles Auto Show should boost the brand's sales even further.
The Forester is all-new for 2025, featuring a longer, more squared-off body as well as a strengthened chassis.
Additionally, Subaru is increasing cargo capacity and updating interior infotainment screens, all in the name of grabbing market share among crossovers.
---
By riding a wave of rising sales this year, Subaru is showing how big of a player it can be in the crossover world. The recently redesigned Crosstrek is the best-selling small crossover in the U.S., while the larger, redesigned Outback fares well among a flood of popular midsize crossovers.
Now Subie is revealing another popular crossover, the two-row Forester, for its sixth generation with a new look and some major chassis upgrades for 2025.
Unveiled at the 2023 Los Angeles Auto Show, the 2025 Subaru Forester has been improved in many ways, but the key to Subaru's success lies in its chassis. Following in the engineering steps of its smaller sibling, the new Forester's chassis remains based on Subaru's global platform, although it is now 10% torsionally stiffer.
The frame construction now benefits from stronger welding techniques and additional structural adhesives, which simplifies the assembly process and saves some weight as well. Subaru has not yet shared exact body dimensions, but product planners say this new approach has resulted in a more responsive Crosstrek.
As always, a 2.5-liter flat-four Subaru boxer engine is found under the hood, producing 180 horsepower and 178 pound-feet of torque and mated to Subaru's polarizing Lineartronic CVT transmission.
Active Torque Vectoring and SI-Drive performance management systems are standard, although paddle shifting capabilities are reserved for the four trim levels above base (Premium, Sport, Limited, and Touring). The Forester's steering is borrowed from the WRX's electronic two-pinion steering rack, just like the Crosstrek.
With the exception of the Solterra EV and BRZ coupe, symmetrical all-wheel drive is a guarantee at this point for any Subaru crossover, and the Forester is no different. With 8.7 inches of ground clearance, the Forester is more capable than a number of its competitors, though that ability usually gets in the way of fuel economy. EPA mileage estimates have not yet been released.
With five trim levels and a number of Crosstrek-matching specifications, it's worth considering where the Forester fits into Subaru's lineup and how it differs from the smaller Crosstrek and larger Outback.
For starters, it has more space than a Crosstrek. With the rear seats folded, the Forester offers 74.4 cubic feet of usable space, compared to 54.7 cubic feet in the Crosstrek and 75.6 cubic feet in the Outback. Those are impressive specs, especially for a model that's typically about 10 inches shorter than the Outback.
Roof rails are standard on all 2025 Foresters, for adventure-ready vehicles, while Subaru says extensive sheetmetal improves aerodynamics, for increased fuel economy and stability. But the biggest change to the Forester is likely to be found inside.
For the first time on a Forester, Subaru's 11.6-inch Starlink multimedia system is available specifically for every model except the base model. In addition to the multimedia improvements, a concerted effort to reduce road noise through the roof panel means the cabin is now 39% quieter.
On the safety front, Subaru's EyeSight driver-assist technology has evolved significantly. With a wider field of view, better software, electronic brake assist, and driver monitoring, the camera-based EyeSight system has become so advanced that it can now detect an incapacitated driver or even automatically steer away from an emergency situation. A child rear seat reminder system is also standard.
Overall, the Forester looks and likely will look new, even if its basic mechanical formula remains relatively unchanged. Such details may not matter to the average Forester buyer, as Subaru owners are a committed bunch.
And if you're one of those people reading this now, your chance to buy a new Forester will come in the spring of 2024.
Do you think that's new? Subaru Forester Is the design an improvement over the previous generation? Please share your thoughts below.

Associate editor
Emmett White, a New Yorker hailing from the Pacific Northwest, has a passion for everything: cars, bikes, airplanes, and motorcycles. After learning to ride at 17, Emmett worked in the motorcycle industry before joining Autoweek in 2022. Alternate side parking issues kept his fleet idle, with a 2014 Volkswagen Jetta GLI and a 2003 Honda Nighthawk 750 parked on his community street South Brooklyn. .