Kia's EV3 and EV4 concepts shown in Los Angeles could be affordable electric cars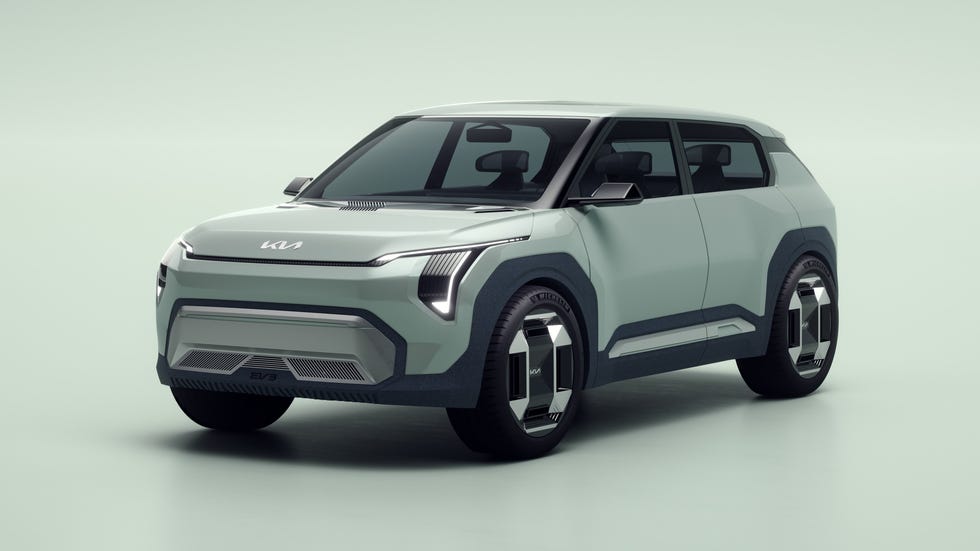 Kia showed off two electric vehicle concepts in Los Angeles: the EV3 compact crossover (shown above) and the EV4 midsize sedan.
It could be in showrooms by early 2025, expanding Kia's battery-electric vehicle lineup.
A larger EV5 SUV concept without a B-pillar and suicide doors was shown earlier this year, and was later modified with regular doors. No word on the US version of that.

---
Kia showed off a pair of electric concept cars at the Los Angeles Auto Show, and word on the street is that the pair could be in production in a little over a year with prices in the $30,000 range. The EV3 and EV4 were originally showcased at Kia's EV Day in Korea on October 12.
As for Kia's electric vehicles, here in the US we currently get the Niro EV and EV6, but Kia has plans to offer more electric cars and crossovers.
For example, Kia is now taking orders for the three-row, seven-passenger EV9 luxury electric SUV, with prices ranging from $54,900 to $73,900. The EV9 range is 280 to 304 miles, depending on model. Design cues from the EV9 are found throughout the EV3 and EV4.
An EV5 SUV concept without a B-pillar and suicide doors was shown earlier this year. In a later presentation it had regular doors. Although the EV3 and EV4 appear to be destined for the US market, it's unclear if the EV5 will make it here. If that happens, it will fall between the Niro EV and EV6.
Kia will assemble the larger EV9 in West Point, Georgia, so it can qualify for a state tax credit for buyers. This incentive could save consumers up to $7,500, so Kia will be incentivized to build an EV3, EV4, or EV5 in the US as well.
There has been talk that Kia will introduce a B-segment electric car and a GT1 electric sports car.
It's all the context of this week's Los Angeles Auto Show, which unveils the EV3 and EV4 concepts. There's no word yet on motors or battery size, but here's what Kia has to say about this design-heavy pair.
EV3 concept

The compact EV3 will fit between the Seltos and Soul. There is no Seltos EV currently, and although the Soul EV exists, it is not offered in the United States. The EV3 could replace the Soul in the company's lineup in the United States.
"The EV3 represents the brand's vision of a compact electric crossover that brings the technology, practicality and design of Kia's flagship SUV, the EV9. The Concept EV3 draws a high degree of inspiration from the 'Joy for Reason' pillar of the United Opposites design philosophy."
In case you missed it, "opposites united" was something Kia introduced at Milan Design Week in April. "United Opposites" "takes inspiration from the contradictions found in nature and humanity." OK.
And there it is: "The design treatment for the exterior of the EV3 concept creates a unique silhouette, with the windshield pushed forward, a sloping roofline, and a separate C-pillar that connects the roofs of the greenhouse and gives the roof a floating effect."
The interior combines exceptional practicality with cabin ambiance and transformative design.
EV4 concept
"Its four-door shape emphasizes strong, impactful lines representing a completely new type of electric sedan that is a symbol of innovation," says Kia. "Brought to life by a harmonious combination of confident, geometric diagonal lines and rich, technical surfaces, the EV4 Concept represents a new value, approach, customer experience and segmentation."
We searched for "category". Besides being a collection of natural botanical skin care products, the word means "to study, analyze, or classify based on types or categories."
Meanwhile, the EV4's exterior design includes features reminiscent of sports cars and racing cars… while the interior features a sleek, spacious horizontal design.
Finally, in a gift to small rodents and hungry marsupials everywhere, Kia says the interiors of both concepts include "bioplastic, produced from biomass sources such as vegetable oils, corn extract, sawdust, sugarcane, and bio-based polyurethane as an animal substitute." Leather based. This is all well and good until the raccoon gets there and eats the interior of your car.
Regardless, we're looking forward to seeing production versions of these two electric cars, perhaps as early as 2025. But you never know exactly when, or even if we'll see them in production at this early stage.
what do you think of Kia's latest electric car concepts, Designed for entry-level affordability? Please comment below.

Mark Vaughn grew up in a Ford family and spent long hours holding a trouble light over a straight-six car miraculously fed by a single-cylinder carburetor while his father cursed Ford, all of its products, and everyone who ever worked there. This was the introduction to objective criticism of automobiles. He began writing for the City News Service in Los Angeles, then moved to Europe and became editor of an automobile magazine called, creatively, Auto. He decided that Auto should cover Formula 1, sports models and touring cars, and no one stopped him! From there he gave an interview to Autoweek at the 1989 Frankfurt Motor Show and has been with us ever since.