Mercedes-Maybach EQS 680 SUV pricing announced: Expect to pay around $200,000 for this cutting-edge electric vehicle
Mercedes announced the price of its Mercedes-Maybach EQS 680 SUV, and its "Night Series" version., it will cost. As expected, it's not cheap. The luxury EV will start at just under $180,000 – but that's what you'll pay before taxes and fees for a streamlined base version of the EQS 680. If you want the 'Maybach Night Series Design Package' (and if you do) If you're interested in luxury, you're probably If you do, it will cost you an additional $25,000. Add a few thousand for the "destination fee" and state-based tax bill, and you're looking at north of a quarter of a million if you want to experience the best of Maybach's first all-electric car.
In terms of performance, the electric car offers a pair of synchronous electric motors with 484 kW, equivalent to 649 hp, and a 0-60 time of just 4.1 seconds.
An air suspension with adaptive damping will help ensure the ride has luxurious glide, as opposed to the more complex and less comfortable experience you might get from a sports car – or the borderline off-road experience you'll encounter in something much cheaper.
The Maybach has other upscale features like rear axle steering. So the "premium" drive system is all set. But what about its luxurious touches?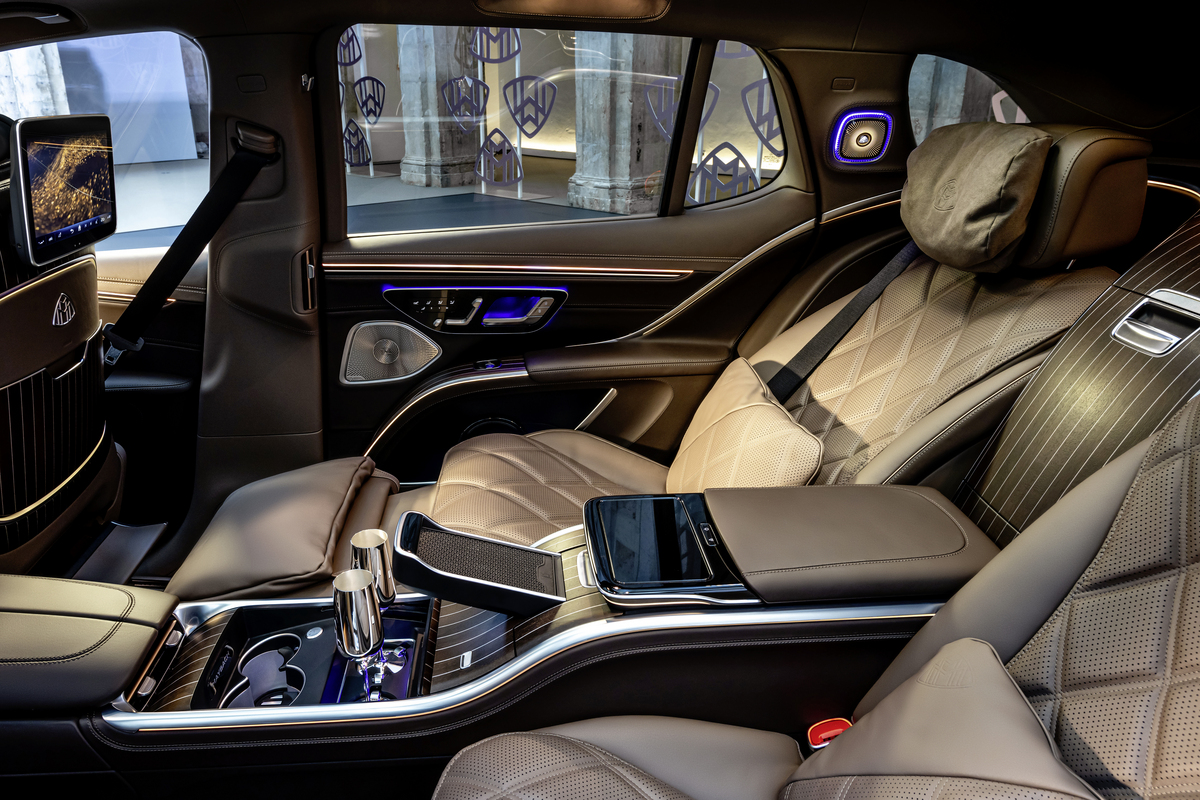 While the price is high, the luxury touches justify it
As with other Maybachs, the EQS 680 comes at a high price. The Night Series Design package pushes things further and costs as much as the lower end car on its own. However, when you look at what you get, the pricing is arguably justified.
The "base" version of the Mercedes-Maybach EQS 680 comes with some premium infotainment features, including the MBUX Hyperscreen with 17.7-inch OLED center display, a 12.3-inch OLED passenger display, a 12.3-inch instrument cluster, and two 11.6 inches. MBUX 1-inch Rear Seat Entertainment Displays. The sound system is also advanced and comes from Burmester.
But what about the luxury aspects? The "Executive Rear Seat Plus Package" comes at no additional cost and essentially transforms the back of the car into an experience similar to that of a luxury airline seating package. You can expect a fold-out tray table, "four-place seating," and heated armrests. Even the cup holders have heating and cooling features, so you can keep your drink at the perfect temperature if you're chauffeured around.
If you're wondering what an extra $25,000 will get you, this upgrade is mainly aesthetic. Everything from the wheels to the door sills will have some indication that you're stuck with the Night Series package. The interior will be covered in dark walnut leather and sustainable nappa leather. Even the screws in the headlights get an upgrade. While this may initially seem like a bit of a waste, aesthetics are very important to the entire luxury experience. There's a difference between sitting in a comfortable chair at the Days Inn off I-95 and an equally comfortable chair at the Waldorf Astoria. This difference goes beyond the type of filler used.
Editors' recommendations
(tags for translation)Cars