Test: Volvo XC40 Recharge – the popular electric SUV with important updates
summary
Expert evaluation
benefits
Smooth and easy to drive
Improve range and performance
Google Assistant
cons
Small screen MMI interface
It's time for an exterior redesign
opinion
It's a nice, easy-to-drive little SUV for those of you who are a little more conservative when looking for a car. Much has been improved compared to the previous version, but at the same time, many competitors go a step ahead in terms of new thinking.
From the outside, this car looks far from new, but the XC40 Recharge is still very popular. In recent months, the model ranked third in the list of newly registered electric cars in the country, after the flagship Tesla Model Y and VW ID.4. Volvo has significantly updated the car compared to the previous version.
Now with rear wheel drive
The bigger news is that Volvo has chosen to switch to rear-wheel drive instead of front-wheel drive. This is a trend that many competitors have adopted. This, combined with a higher net battery capacity and a new internally developed motor that has slightly more power than before, means the car is livelier and more durable than before. Which is noticeable.
I think rear-wheel drive makes the car more fun to drive, even if this isn't a car that calls for active driving in general. But it feels confident that the acceleration power is there when you need to overtake and this is a nice little car to burn up highway miles with. A little better insulation would have been nice. This, coupled with some of the material options, continues to remind me that this is by no means a luxury car.
The Volvo XC40 Recharge is a very small car, but it still doesn't feel cramped given that extra height. You can sit comfortably in the seats and the driving environment is simple and attractive. I like the design and the combination of some physical buttons for some functions with a simple MMI interface. The screen housing the all-digital gauge cluster and trip computer is sharp and nice, with an integrated map display.
However, the screen on the center console seems a bit small. It's time for Volvo to update its system, and that also applies to the sound system. Compared to competitors like Tesla, the Swedish manufacturer lags far behind. Another thing I miss is wireless Apple Carplay support.
Mikael Lindqvist
Voice control in Swedish
However, I appreciate the integration of Google services with the excellent Swedish-language voice control. And the ability to download useful applications. It is not difficult to find the settings you are looking for. It has more to do with the fact that it becomes difficult on the small screen, for example when you have to enter and change the climate settings while driving.
Volvo has always been at the forefront when it comes to safety features and modern driver aids. Adaptive cruise control and lane assist always keep me right in the middle of the lane when the car is driving "on its own." At the same time, the safety systems warn immediately when obstacles appear in different situations, making you feel safe. For example, when I come back out of the parking lot and a cyclist appears.
Nowadays, the XC40 Recharge is capable of fast charging up to 200 kW under ideal conditions. It is recommended to pre-heat the battery, which happens automatically if you set up a fast charger in the car's Google Maps browser. I was never able to increase the charging speed to the Volvo's maximum numbers, but that may be because I was far from united in the Ionity station I tested. When you charge at home using an AC box, the car can handle up to 22 kW.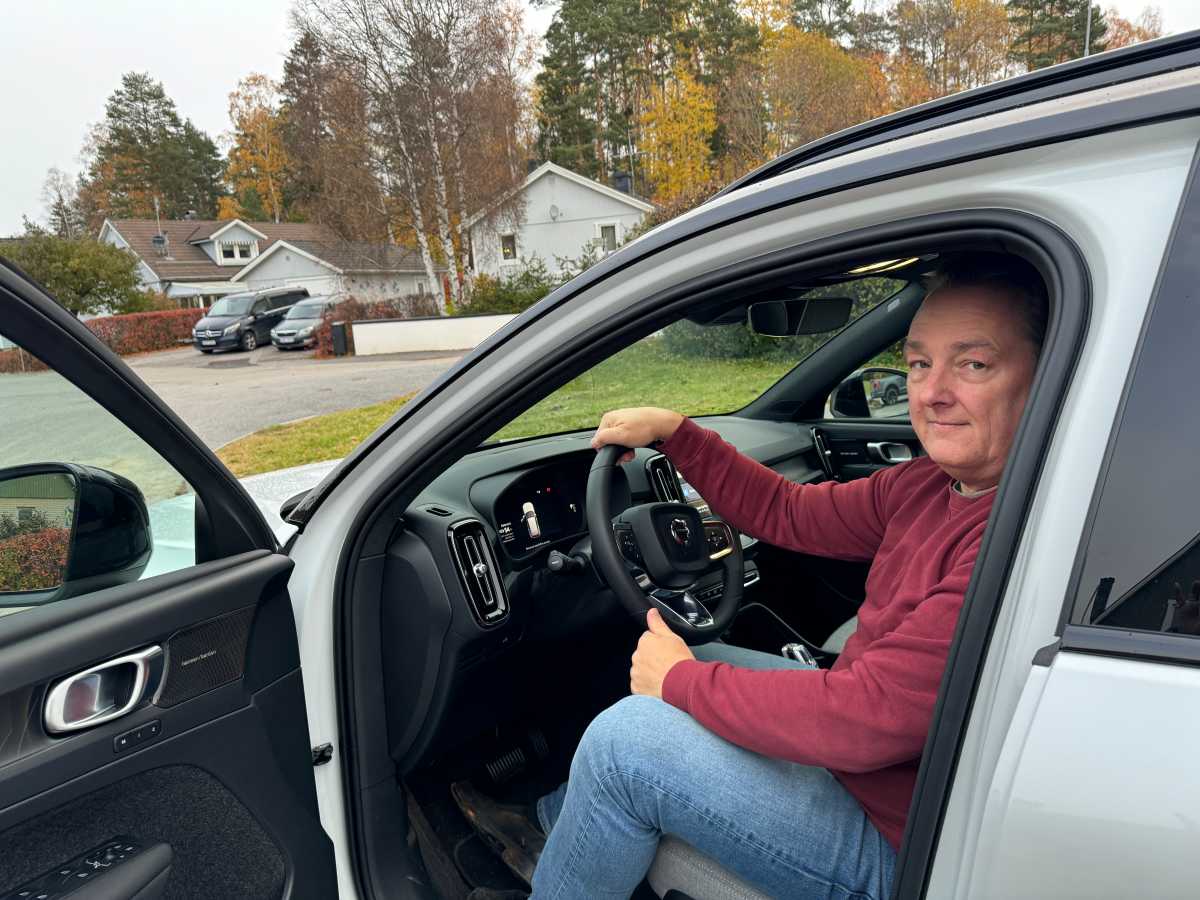 Mikael Lindqvist
Domain
So what about scope? The XC40 Recharge already has a heat pump in the basic version (the simplest equipment level), so you don't have to worry about the air conditioning draining too much battery capacity. The WLTP figure promises a range of 570 kilometers on a charge, but this is of course very far from reality. However, the car was able to exceed the 40-mile limit without problems on a cold fall day, which is all approved.
Although the new Volvo XC40 Recharge has been updated in several important points, it still feels a bit dated compared to many competitors. However, it's practical, safe and secure, and if you prefer a slightly more conservative interior to a lounge feel with a large entertainment and gaming screen, you'll feel more at home with this car than, say, a Tesla Model Y. .
Volvo XC40 Recharge 2024 facts
(single motor extended range)
Tested: October 2023
the creator: Volvo
taken: From 559,000 SEK (basic)
engine: 252 hp electric motor (420 Nm torque)
Driving: Rear wheel drive
bacteria: 79 kW (net power)
Range (WLTP): 570 km
performance: 0-100 km/h in 7.3 seconds
Vehicle tax: 360 DKK per year
CO2 emissions: 0 g/km