The 2025 Lucid Gravity Crossover SUV debuts at the Los Angeles Auto Show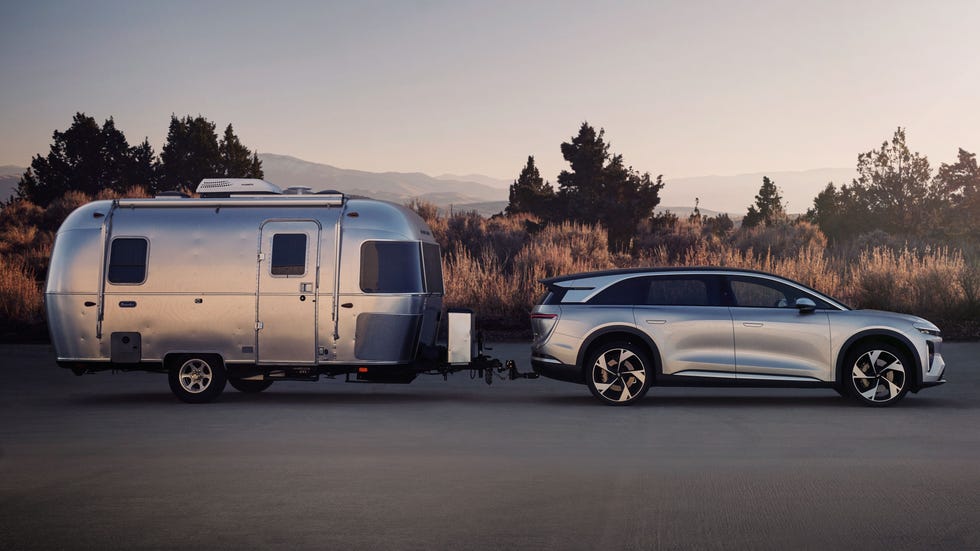 Lucid's first SUV is a stunning vehicle, riding on a new aluminum space frame with an updated (but unspecified) powertrain from the world-leading Lucid Air sedan.
Expect up to 800 horsepower and a range of 440 miles or more per charge. Battery size has not been released.
Pricing will start at less than $80,000 when Gravity debuts at the end of 2024.
---
While sedans are still great things, the world is demanding SUVs, and these are the SUVs the world is getting.
After two years of building and introducing the extremely fast and extremely efficient Lucid Air sedan in all its various forms, from Pure to Sapphire, all of which are extremely fast and some of which boast a range of more than 500 miles, Lucid finally unveiled at the Los Angeles Auto Show its first SUV: the Gravity.
Welcome to the world of profitability, Lucid.
"We have justifiably high hopes for good sales," said Peter Rawlinson, CEO and CTO of Lucid.
And they'll do so with a sleek body, three very usable rows of seating for up to seven adult passengers (I sat in the third row and was comfortable), a luxurious cabin that rivals the best in its class, and the same highly efficient powertrain as the Lucid Air sedan.
"The Gravity SUV represents a huge leap forward for Lucid's world-leading technology and designs," Rawlinson said. "Customers will find an unprecedented combination of space, manoeuvrability, luxury and versatility, all seamlessly integrated into one exquisite vehicle that has the driving experience and true Lucid range."
We haven't gotten to drive it yet, but Rawlinson isn't lying about the aesthetics.
I had to look around the outside and inside — and sit in all three rows — of the Gravity prototype at the company's headquarters in Silicon Valley, California. It's practically luxurious on the inside and is also aerodynamically efficient and nice-looking on the outside.
Aerodynamics are at an all-time high but it doesn't result in a strange exterior appearance with any unnecessary vents, flaps or wings. There is an absolute minimum of superficial scuffs anywhere on the body. Flush door handles and wide sides create a design that can't be confused with anything else on the market.
"It was really important to maintain the sleek design we created with the Lucid Air which was really highlighted by our cabin signature that highlights the space of the car as well as the elegance of the car," said Design Director Derek Jenkins during my visit.
All of this brings the target drag coefficient to less than 0.24, an aerodynamic profile unmatched by any other three-row SUV.
This sleek exterior wraps around an all-new aluminum space frame. Yes, everything is new. Why not take the Lucid Air sedan and raise the roof? Lucid says it won't work, at least not. By starting with a clean sheet of paper, or in this case a blank CAD computer screen, Lucid created a shape that perfectly suited the needs of a three-row SUV, rather than adapting an existing, soon-to-be obsolete SUV into something it's not.
The powertrain is similar to, but evolved from, that of the Aero sedan. Lucid says you can expect your Gravity to have a pair of electric drive motors, with one at each axle. These two engines combine to generate more than 800 hp and are fed by a battery with a capacity of approximately 120 kWh. This combination is good for towing 6,000 pounds, towing 1,500 pounds, and moving gravity over 440 miles on a single charge. Of course, if you are towing or hauling that much weight, the band number will be affected.
Zero to 60 mph acceleration times for the Air sedan range from 4.5 to 1.89 seconds, and top speeds range from 124 mph to 205 mph. But since Lucid hasn't yet announced which of these drivetrains will be in the first Gravity SUV, we don't know if they're related or not.
Likewise, gravity charging rates are not listed by Lucid. Air sedans range from 250 kW DC charging to 300 kW for the Air Sapphire. The Gravity will offer two-way charging, though exactly what it can be connected to is often left up to the administrator's standards and capabilities.
"Lucid's innovative and proprietary electric powertrain technology and our comprehensive approach to vehicle engineering have truly enabled the Air Sedan to redefine what was thought possible from a luxury sports sedan," Rawlinson said.
"With Gravity, these innovations have evolved and our next-generation technology has been applied to even greater effect, creating an electric SUV that can achieve more than 440 miles of range with a battery pack that is just over half the size of some of our battery-hungry vehicles," Rawlinson said. .
The Air Battery comes in several different configurations, but Lucid didn't specify which ones will be in the Gravity.
Among the many neat features within Gravity are:
A 34-inch continuous curved OLED display floats above the Gravity's innovative new steering wheel.
Dual thumb-operated, programmable touchpads on the steering wheel for more control of the infotainment system while keeping both hands on the wheel.
A "demo panel" with quick-access touch bar sits alongside a new glass center console that slides elegantly to provide additional storage space.
Augmented reality in HUD turn-by-turn navigation system.
A 'detox mode' is similar to that found in older Saabs which turns off all internal graphics and on-screen graphics not necessary for silent operation.
Getaways that take you away to "fun screen locations" for downtime when you're charging or sitting in the driveway getting ready to head home. For these sanctuaries, images are projected onto a 34-inch Joshua Tree screen, for example, while massage seats work over you. There's even a "mindfulness program" that will guide you through an actual meditative breathing moment.
If that doesn't work there's karaoke.
It even remembers your birthday, anniversary, New Year's Day, etc. "The car knows your calendar."
The fact that they list the sticker price for all this technology at less than $80,000 to start is surprising, because it sounds like something that would cost a lot more than that.
With all of the above, plus an efficiency target of 3.6 miles per kilowatt-hour, the Gravity could become the most efficient electric SUV on the market. The look and utility of the rest of the car means Lucid has a strong chance of making a big splash in an increasingly crowded – and increasingly electric – market.
More specifications will follow the Gravity's launch in late 2024.
Do you expect Obvious attraction To significantly outperform the aero sedan? Please comment below.

Mark Vaughn grew up in a Ford family and spent long hours holding a trouble light over a straight-six car miraculously fed by a single-cylinder carburetor while his father cursed Ford, all of its products, and everyone who ever worked there. This was the introduction to objective criticism of automobiles. He began writing for the City News Service in Los Angeles, then moved to Europe and became editor of an automobile magazine called, creatively, Auto. He decided that Auto should cover Formula 1, sports models and touring cars, and no one stopped him! From there he gave an interview to Autoweek at the 1989 Frankfurt Motor Show and has been with us ever since.