The best new cars of the year are affordable, customizable, and high-tech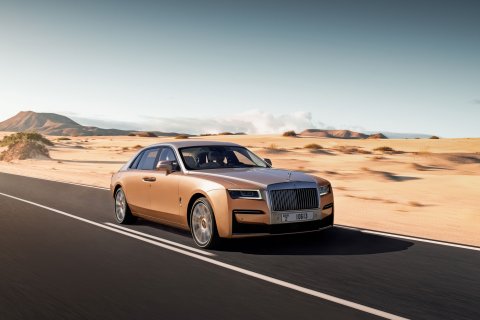 These years Newsweek Automotive award winners reflect an industry in a period of recovery and change as well.
Supply chain crises have eased in the past few years – especially in semiconductor chips. Automakers are seeing better sales while rolling out models that were in production long before the pandemic. The transition to electric motors continues. Vehicles of all types have become highly technologically advanced. However, buyers still want what they've always wanted: safe, reliable, stylish, and affordable cars and light trucks.
This year's winners include some of the greenest and most luxurious cars made today. They up the ante on performance and many offer more for your money than ever before, including the smallest models on our list. They come from foreign and domestic brands, new and old. Our biggest winner overall was Kia with six awards. Honda and GMC each received four awards, followed by Land Rover, Rolls-Royce and Mercedes with three awards each.
Newsweek Auto editors evaluated cars in two ways: test driving them and comparing standard and available features and specifications to other vehicles in the same class. The team drove about 200 vehicles and classified them into seven categories: performance, handling and braking, technology, cargo area, seating, interior appointments and pricing. As for our editors' picks, our criteria was a bit more subjective — they're just tools that particularly knocked us over. This year, we're also highlighting the best new technology features. All of these vehicles are now on sale in the US – for some that means 2023, for others 2024.
Fix the mix
After years of promoting large trucks and SUVs, automakers are now bringing smaller models to the market.
"There is significant pent-up demand at the lower end of the market, partly due to the fallout from the pandemic and supply chain shortages," says Paul Watty, director of industry analysis at AutoPacific, an automotive market research firm. Newsweek.
As these forces – not to mention inflation – drove up the prices of new and used cars, entry-level buyers had a hard time finding anything they could afford. According to Tony Salerno, managing director and head of the automotive consulting and analytics practice at consumer data firm JD Power, automakers now "urgently need to shift from 'building the most expensive mix possible' to 'building a balanced mix of affordable and profitable vehicles'." products.'
"In October 2022, less than 17 percent of all vehicles sold were priced under $30,000. That mix is ​​now over 20 percent," he says.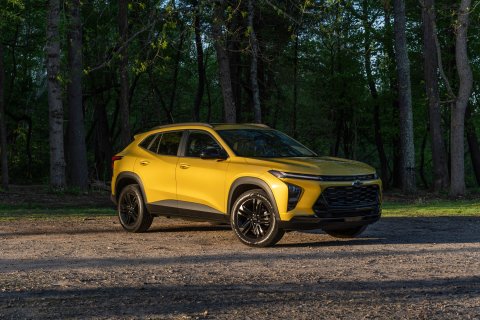 Budget-conscious buyers now have plenty of options. Watty says: Chevrolet Trax 2024 (A Newsweek Editors' Choice) — arguably the best combination of value, style and versatility on the market — and the slightly more upscale Buick Invista has breathed new life into GM's gateway models in sleek SUV form. Ford has reimagined what an entry-level model can be with the Maverick pickup. Nissan remains committed to affordability with the Versa and Sentra for sedan buyers. New, larger versions of the Nissan Kicks and Kia Forte are just around the corner for value-seeking SUV customers.
At the same time, automakers have been working to give inflation-weary buyers at all levels a good reason to spend. One big topic is customization. "Personalization programs are designed to emotionally connect the consumer to the vehicle," Salerno says. For example, he says Cadillac's new Celestiq EV sedan can be customized enough that a customer can own "one vehicle of one." Likewise, for the Rolls-Royce Specter, a Newsweek Winner of the award in two categories, Interior Design, Colors, Patterns, Textures and Interior Styles are fully customizable.
"Luxury automakers are increasingly offering personalized experiences and new levels of personalization including technology, materials and color options, many of which are now premium eco-friendly options," says Watty.
Sustainability is everywhere
Vehicles at all levels are becoming more environmentally friendly. "Sustainability is something every industry tries to market itself on, and car brands are no different," says Salerno. Models of all sizes now regularly achieve more than 30 miles per gallon. Some, like the Toyota Prius and Hyundai Elantra Hybrid, are rated at more than 50 miles per gallon by the EPA.
But lower emissions are only part of the equation. Carbon neutrality in the supply chain is also on the minds of automakers, and buyers are starting to see environmentally friendly and sustainably sourced materials at more common touchpoints.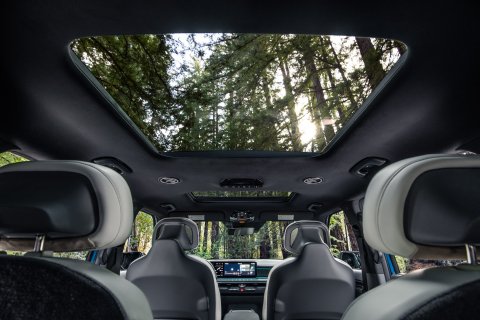 "Volvo and Polestar are great examples of brands that have this sustainable narrative as a brand identity," says Watty. "Kia is highlighting these initiatives in its latest offerings such as the EV9(a) Newsweek Prize winner). Audi, BMW, Mercedes-Benz, Fisker and Rivian have also been prominent in sustainability and sourcing.
As for the ongoing overall shift from gas to electricity, analysts expect it to only accelerate but with one important addition – a new focus on performance.
"The original narrative behind electric and hybrid cars was efficiency, and part of the fallout from early efforts was the focus on aerodynamic designs that created strange shapes and designs for vehicles," says Watty. "Today, automakers have evolved those designs into much more palatable shapes and are starting to pump Excitement comes into the equation with performance and off-road variants." He says Hyundai's high-performance Ioniq 5 N (expected late this year) and the Ford Mustang Mach-E Rally (scheduled early next year) are prime examples of this shift.
Eileen falkenberg hull Newsweek Senior Automotive Editors. Follow her on @XwriteEileen. Jake Lingmin is the magazine's managing editor Newsweek Car team. Follow him @JakeLingeman.