The new £34k Volvo EX30 is a bargain electric crossover
► Volvo EX30 electric all-wheel drive revealed
► Maximum range 298 miles, eco-friendly construction
► UK prices start from £33,795
Volvo has unveiled its new EX30 electric SUV, which brings out the big guns when it comes to design, on-board technology and, more importantly, closer price parity with the combustion engine crossover.
The new EX30 is the brand's smallest SUV yet, rounding off its future electric range with the massive seven-seat EX90 at the other end of the size scale. Volvo also claims the EX30 is its most environmentally friendly car ever, using a manufacturing process that reduces as much waste as possible and spreading recycled materials inside and out as much as possible.
Keep reading to find out everything we know about the new EX30.
Volvo EX30: inside and out
The brand's smallest SUV to date takes its design cues from the new EX90, including that slightly modified version of the brand's Thor's Hammer headlight signature, albeit without the hidden lenses seen in use like the larger seven-seater. Five exterior colors are available, and new aerodynamic wheel designs are also available at launch.
T.Jon Mayer, Volvo's head of exterior design, says the front fascia is inspired by "sci-fi helmet design" (i.e. Stormtroopers from Star Wars!), and that it incorporates small intakes to channel air over the front wheels.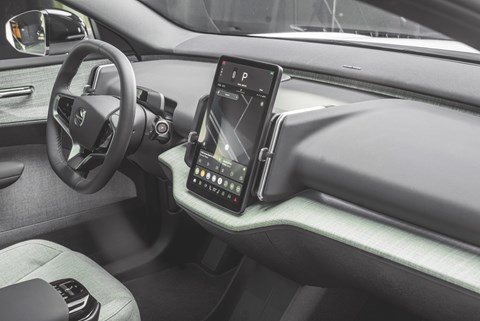 It's classic Volvo inside, with a clean ambience in the cockpit. There's a large Google-based infotainment system in the center, as well as a huge-looking "floating" armrest. Stylish details include the use of a dashboard-mounted side bar, eliminating the need for door speakers, and interior color schemes are classified as 'rooms' with their own range of materials used, including those using recycled denim fibres.
The interior itself is full of clever details including cup holders that slide out of the center armrest, drawers and compartments in the lower center console, and even a center glove box (instead of the one on the passenger side). There is also a tray that the rear passengers can access as well.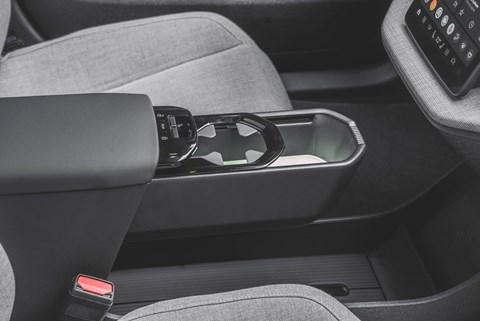 It's similar to a Tesla in its design in some ways, however – there's no center display and no head-up display either – every bit of information is dedicated to one central display. The goal was to have information such as the speedometer "as high as possible" on the display so that it remains in the driver's eyeline, says Patrick Müller-Horn, senior director of interior design. Even the window switches are on the center console.
In addition to Volvo's claim that the EX30 is the greenest model ever, 25% of the aluminium, 17% of steel and 17% of plastics used are all recycled.
Of course, since it's a Volvo, in addition to an abundance of driver-assistance technology, there's also plenty of safety gadgetry as standard. Volvo says the EX30 offers "Safe Space Technology" features that "address the kind of accident risks familiar in urban areas," including an alert if you're about to open your front door to a cyclist.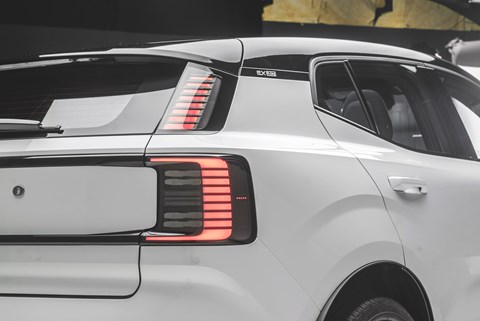 Unlike the EX90, there is no LIDAR. The technology is still expensive, and CEO Jim Rowan said the technology "can't fit into this architecture — but who knows?" We may be able to do this on a future generation.
Volvo EX30: range, battery and specifications
The new EX30 uses an entirely new platform specifically for electric vehicles (the SEA platform for the wider Geely range also used by Smart #1 and Zeekr For the UK market, there are two battery sizes (51 kWh and 69 kWh), three power options and two trim levels (Plus and Ultra).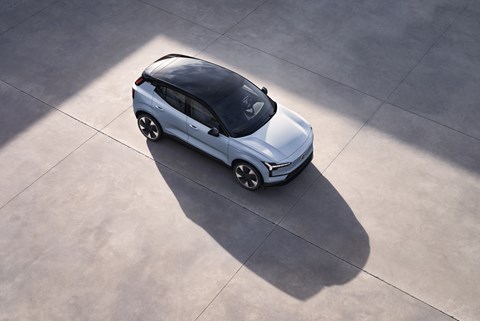 Single engine (Available as Plus or Ultra) Featuring a smaller 51kWh battery coupled with a 272bhp and 343Nm electric motor at the rear axle, it's good for 0-62mph in 5.7 seconds and an initial range of 214 miles.
Single motor extended range (Available as Plus or Ultra) It uses a 69kWh battery pack and a 272bhp/343Nm electric motor on the rear axle, achieving a 5.3-second 0-62mph time and a range of 298 miles.
Dual motor performance (Ultra only) It has a larger 69 kWh battery pack, and two electric motors for a total system output of 428 hp and 543 Nm. 0-62 mph in 3.6 seconds makes the EX30 Twin Motor Performance the fastest accelerating Volvo ever, with a range of up to 286 miles.
As for the entry trim levels, the Plus features kit like a Google-based infotainment system on a large 12.3-inch screen, a Harman Kardon audio system, dual-zone climate control, heated front seats and steering wheel, parking aids, and Volvo's Pilot Assistant. And an internal charger with a capacity of 11 kW.
Step up to Ultra and you'll benefit from 360-degree parking assist, a panoramic roof, 20-inch wheels, electric seats and a 22kW onboard charger. The entry-level spec will join the UK range in 2024, bringing the entry price down further.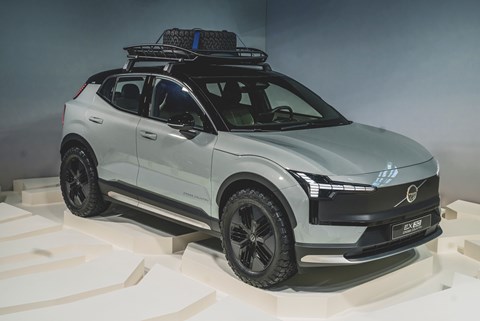 Furthermore, Volvo has confirmed that a Cross Country version (pictured above) of the EX30 will be on the way, including some additional black trim and body cladding as well as options like a sturdy roof rack and off-road tires. It has been confirmed to arrive in the UK, but powertrain options have yet to be determined.
How much does the new Volvo EX30 cost?
Volvo says you can order the EX30 now in the UK, with prices starting at £33,795 for the Single Motor Plus model. Looking for more range or performance? Extended range models start at £38,545, while the hot Twin Motor Performance model is priced at £40,995 before options.
Volvo is keen to keep that price the same. Björn Annwall, Volvo's chief commercial officer and executive vice president, says he wants Volvo to sell cars at an "honest" price, not raise its prices for the sake of it.