The Volkswagen Amarok GTI Electric looks like a dreamy mid-size pickup truck
In America, the giant GMC Hummer EV, the region's new Rivian R1T, and the mighty Ford F-150 Lightning have set the pace across the new zero-emission full-size pickup truck segment.
10 photos
Image: DigiMods Design/YouTube
The situation is improving – at least in theory. Soon, the Chevrolet Silverado will compete with these models Eve, its sister GMC Sierra EV, Ram 1500 REV, as well as the funky Tesla Cybertruck. So, we can say that they are well involved in the electric vehicle revolution.
However, the situation is completely different when it comes to smaller offers. Only the Ford Maverick unibody compact pickup truck is electrified, and only the N400 Toyota Tacoma has made its hybrid spirit known in North America with 326 horsepower coming from its i-Force Max lineup. But what about all-electric offerings? No, nothing from the old automakers.
Interestingly, it is the imaginary world of digital car content creators that offers a solution to the dilemma – and perhaps a universal one. Dimas Ramadan, the virtual car artist behind Designed by DigiMods A YouTube channel, took on the task of revealing the concept of the Amarok EV – in CGI, perhaps because he was sick and tired of waiting for VW to get the revived Scout brand up and running.
The second generation of the popular VW Amarok body-on-frame pick-up was unveiled last year, and is now based on the Ford T6.2 platform shared with the latest Ford Ranger – with assembly even taking place at Ford's manufacturing plant in Silverton, in the south of the country. Africa. Both two-door Single Cab and four-door Double Cab configurations are available for this iteration, with four TDI (Diesel) and one TSI powertrain option.
However, there's no electrifying presence in the real world – and certainly no one wearing the legendary GTI badge. Well, that changes across the parallel worlds of CGI as the pixel master reworks both elements of the id. The iconic GTI red series and patterns in the design of the second generation Amarok.
Honestly, it's not a bad design at all because the I.D. The series deploys a sleek design style that seems easily applicable to any model in Volkswagen's portfolio. On the other hand, the author's eccentricity is not ashamed of this design project as the title says "All-new VW Amaro Electric", but the CGI expert forgot to scan the classic exhaust pipe from the car. ice-Powered exhaust system!
In any case, it will likely be a long time before we see the Ford Ranger and VW Amarok platforms embrace a zero-emissions lifestyle – although it wouldn't be too far-fetched for that to happen when the Blue Oval debuts the F's second-generation architecture -150 Lightning If the company decides to make it standard and applicable to body models on the smaller frame, right?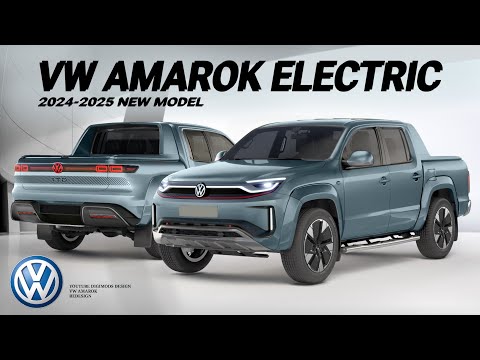 (Tags for translation)Volkswagen Amarok GTI Electric