This ambulance got a new lease on life with a premium off-the-grid vehicle makeover
If you've read any of my previous articles, you know I'm obsessed with campers. When I find a great project, I get behind the keyboard to share its intricacies with you. What I have for you today is a 4×4 ambulance converted into a full-time home owned by Alex and Crystal, appropriately named "Emergency Getaway." Before we delve into the details, let us see why one might want to choose an ambulance as their primary vehicle.
There are many options to choose from nowadays when it comes to motor homes. Of course, each type of vehicle has its advantages and disadvantages. In the case of an ambulance, several things make sense. First and foremost, used ambulances are built to last. Moreover, they are usually well maintained during the period of active use.
Let's be honest – another deciding factor for most people when deciding on a basic camper vehicle is cost. In this regard, used ambulances are considered budget-friendly. Moreover, it is spacious, well insulated and has usable living space.
To balance things out, let me also mention some disadvantages. For example, the durability of an ambulance is a double-edged sword, as it may be difficult for some to remove certain components or modify its structure – you'll need some serious tools to hack its interior. Furthermore, if you are not familiar with electronics and wiring, you may have difficulty dealing with the complex electrical system of the ambulance.
Finally, stealth camping in the ambulance isn't really an option, as it will attract some curious looks, even with all the stickers removed. By the way, the law requires you to get rid of any graphic elements that indicate it is an ambulance, as well as lights and sirens.
Photo: YouTube screenshot/Tiny House Tours
Alex and Crystal chose a used ambulance as their road home for several reasons. The first is that they are very solid, just as I described above. What's more, they liked it because it was square, which made converting the stroller easier since they didn't have to deal with curves. In addition, it comes with many storage options.
The couple bought the ambulance in 2019. At first, they used it as it was, but eventually, they decided to convert it and move in full-time with their border collie, Lincoln. Let's see how they transformed it into their perfect home on wheels.
At first glance, you can't mistake this platform for anything else besides a former life-saving vehicle. However, it has been redesigned for a new purpose: off-road exploration. Perhaps the most significant upgrade is the 4×4 drive system. On top of that, the couple lifted the car, added a solid front axle and aftermarket Fox shocks, and rode on 33-inch tires.
Storage is vital when living in a mobile home. You want to find that perfect balance – design enough storage spaces to fit all your items while leaving enough room to move and live comfortably inside your device. In this regard, the couple installed some additional components around the outside of the ambulance in order to obtain the largest possible space.
Photo: YouTube screenshot/Tiny House Tours
As Alex described, when you buy an ambulance, you won't find anything on the shelf that's a perfect fit. So, the duo came up with a simple but effective solution: a custom bumper with lockable swing arms.
They have a spare tire, a trash bag, and a pole for StarLink. Furthermore, you'll discover two large containers filled with all sorts of bits and pieces, including a grill and a propane fire pit. At the top of the right arm is where Alex and Crystal store their bikes – Alex explained that they chose this position to make bike theft more difficult.
Both arms open, revealing the back doors of the ambulance. Behind them, the couple created a garage that includes a grand staircase. Besides having enough space inside the stroller, you must find an efficient way to use it. These two truckers keep everything nice and tidy with large plastic bins — and they even go the extra mile and vacuum seal their belongings to maximize available garage space.
At the front, you will notice a heavy-duty bumper, which can certainly easily remove objects from the vehicle's path. Both the rear and front bumpers are made of steel, so they add a bit to the weight of the camper, but provide that much-needed extra level of protection, especially when driving off-road.
Photo: YouTube screenshot/Tiny House Tours
All sorts of useful components make up the rest of this car's exterior. You will discover, as in most ambulances, that there are a range of external storage compartments in the form of lockers. At the front, right next to the passenger door, there is an additional access to the electrical system. Underneath is a drawer that houses the additional battery needed to start the 7.3-liter engine.
Some truckers use their roof space to fit solar panels, which is essential when going off the grid. Alex and Crystal did just that with their 750-watt solar panels, but they made sure to fill the entire area with other useful components. For example, you will discover a rack above the cabin, an awning, and two large boxes containing inflatable kayaks.
But enough talk about the exterior for now – you're probably curious to hear more about the ambulance's living space. The design is not new – the bathroom is integrated next to the driver's cabin, the kitchen is on the side, and the bathroom is at the end of the interior. Still, the transformation looks amazing, especially since this was a DIY job.
Let's start things off in the kitchen. Features a large worktop, deep sink, 95 liter (25 gallon) fridge/freezer and oven with hob. The same storage-focused approach continues inside, where there are many drawers and cabinets. In terms of aesthetics, the light green color blends beautifully with the white tiles and wood deck.
Photo: YouTube screenshot/Tiny House Tours
Opposite the kitchen, you'll find a bench with two drawers below and some upper cabinets. This area can be used as a dining room and workspace, as there is a large table mounted on drawer slides that can be extended. Furthermore, you will notice that there is a small side window that can be opened.
It's impressive that this couple was able to fit a bathroom inside this camper even though the car is not that spacious. Comes with a Nature's Head composting toilet, shower, light with aeration fan and shower door. If you look closely, you'll see that the tiled design is actually made up of plastic panels that have been clicked together. Oh, by the way, there's plenty of water available on board their ambulance: a liter (65 gallons), to be exact.
There's no point in having a great camper interior if the place you're resting in is uncomfortable. Many people sacrifice real estate inside their cars to make room for a proper mattress, just like Alex and Crystal. They also use a neat trick: Instead of traditional pillows, they fill pillowcases with towels, T-shirts and other clothes. I told you both of these things are about maximizing storage space.
On the bedroom walls, you'll notice more cabinets, outlets, and a small TV on a swivel stand. At the top, there is a Maxxair fan that ensures proper ventilation. However, it can't keep up with the hot days, so they also install an air conditioning unit.
Photo: YouTube screenshot/Tiny House Tours
Alex described that the goal of this platform is to be able to go off the grid for about a week. A water tank certainly helps in this regard, but the ambulance also features two 400-amp batteries, a 3,000-watt inverter, and a diesel heater, among other components.
You're probably curious to know how much all this costs. The base car cost $6,800 (€6,336), the interior conversion cost about $35,000 (€32,612), and the off-road conversion was about $25,000 (€23,294). Therefore, the total price was just under $80,000 (€74,542). Although it's not a low-budget release, I'd say it's a great deal, complete with premium options and stunning looks.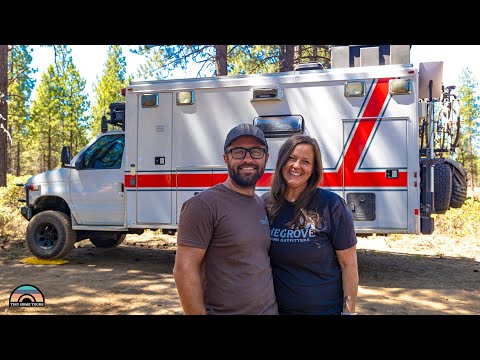 (tags for translation) camper