This off-the-grid truck camper conversion breaks the mold with a comfy "burrito bed."
When designing a campervan conversion, it's best not to leave anything to chance – ideally, every inch should be maximized. Today, I found a conversion that features a functional design with innovative details worth highlighting.
What we have here is a converted 2019 Ram ProMaster truck created by Climb Entertainment, a company dedicated to building any bus or truck. These guys specialize in party buses and have come up with crazy designs, like a mobile spa, a video game bus, a mobile cave, and more.
But today's construction is more on the natural side, with a heavy emphasis on livability, comfort and plenty of luxury touches.
Starting from the outside, you'll notice that this truck has a completely stealth appearance, with nothing indicating the fact that it's a camper van. If you have a keen eye, you might notice the 100-litre (26-gallon) freshwater tank located under the car. While we're on the subject, you'll also find a 60-liter (16-gallon) gray water tank nearby.
The inside is where you'll find the truly special features. The interior design may not blow you away, but this device prioritizes comfort and practicality.
Photo: YouTube screenshot/Laddy and Margaret
Once inside, you'll notice an open layout, with the driver's cabin not separated from the living area. Alternatively, the driver and passenger seats can rotate, and there is a table for each seat. Furthermore, the makers of this truck reupholstered it with leather.
The driver's cabin also has some useful storage space, with four overhead shelves, two of which are quite spacious. Other notable features in this area are the Maxxair fan and Webasto diesel heater mounted under the passenger seat.
Go deeper into the truck, and you'll find the wet bathroom on your right. Open the sliding door, and you'll discover a large space equipped with a pedestal toilet, shower, teak shower mat, and LED disc in the ceiling.
By the way, the only thing I don't like about the interior design is the lighting. First, there are no side windows besides the main door, so you only get light from the front and back of the truck, plus a few ceiling fans. This isn't a deal breaker – my issue is with the LED lighting. The builders could have chosen a softer color instead of the stark white. Another suggestion is to add more strips.
Photo: YouTube screenshot/Laddy and Margaret
This brings me to my next point: There's a lot of white inside this truck – the cabinets are white, the kitchen is white, and many other features around the interior are finished in white. Needless to say, this makes keeping the interior clean more difficult, and it doesn't help the overall aesthetics of the truck.
On the other side of the bathroom, the builders created a small kitchen. It may not seem like much at first, but it's a complex and cleverly designed feature. Toward the entrance, you'll find a double-compartment refrigerator mounted on a 500-lb. (227 kg) drawer slide.
At the top, you'll notice a solid acacia wood countertop with a huge integrated sink. For storage, you can use multiple kitchen drawers. In fact, you'll notice that the makers of this truck prefer drawers. For example, they created a drawer-mounted cutting board and integrated an induction cooktop into the drawer.
However, there is a slight problem with them. It comes with a push-to-open mechanism, which, in the case of this truck, can't handle a rougher ride, as it opens on its own from bumps. This is one reason why truck manufacturers usually choose latches.
Photo: YouTube screenshot/Laddy and Margaret
Right next to the bathroom you will find the 'main storage hub' which again consists of drawers – what a surprise – these are the largest on this platform. Fortunately, not all storage spaces are drawers. For example, Climb Entertainment outfitted two oversized closets with acrylic sliding doors.
Next, we have the bedroom/lounge area, which is by far the most innovative part of this truck. On the passenger side of the rig, builders added a wide, reupholstered bench like the front seats. The electrical system is located underneath, featuring a 2,000-watt inverter, solar charge controller, lithium battery setup, and more.
the "Piece de resistance" This cart conversion is a work desk/bed – yes, you read that right. In daytime setting, you can sit on the bench and pull out a large slide-out wooden desk, complete with integrated storage. There are many sockets around, so two or more people can sit there and work.
Once you are finished and ready for bed, you can extend the "burrito bed" over the work desk until it rests on the back panel of the seat. It's easy; There is no need to rearrange cushions and install planks as in other campers. The downside is that the bed is quite small, so taller people won't be able to lie flat.
Overall, what makes this truck special is the bed setup, which deserves some praise. But besides that, there are some drawbacks that cannot be ignored.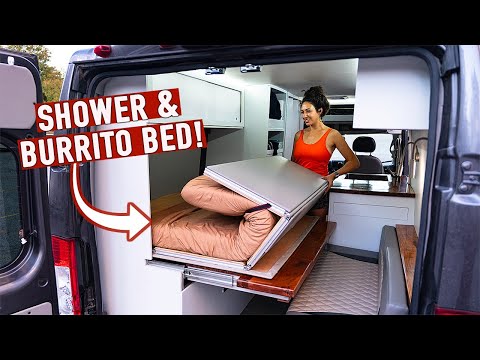 (tags for translation) camper