RED LION, Pa. – Mike Knaub was just a young man when he attended his first antique auction.
"My grandfather interested me," Knaub says, a smile spreading across his face when he thought of his art restorer grandfather.
Knaub's grandfather was Wilfred Markey, a Dallastown-area farmer who also ran a postal route and had a penchant for the durability and historical tradition of antique equipment.
Close to his grandfather and under his supervision, the 6- or 7-year-old Knaub ended up bidding on an antique steam engine, which the family still meticulously preserves and displays at several area steam and historic equipment shows.
"I was 8 years old when I bought my first Caterpillar," he said of another purchase a year or two later. "It came from Joe Rap's orchard."
Because the Rapp family orchard was located just outside of Dallastown, the collecting piece remained close to home, becoming part of the carefully restored Marche collection, and the family continued to grow over the following years.
"We have almost half a century of trucks, and each one has a story," Knaub said of the dozens of vintage models, ranging from 1915 to 1951.
He continues to run the family trucking business, restoring rare finds along with keeping the existing large operating rig in good operating condition.
Along came the Atlas trucks
Along the way, Knaub became interested in Atlas trucks, which were an early forerunner of today's high-end pickup trucks. Atlas models were produced by Martin and Perry at their factory on West Market Street in York. The carrier never built cars, but primarily produced commercial bodies, many of which were used in the legendary Model T Fords.
The Atlas trucks were what Knaub calls "piecemeal trucks," where the various components were purchased from whatever supplier offered the most economical price. Over its six years of production, components have come from a range of suppliers. This diversity of suppliers adds to the challenge faced by restorers today who are searching for information or descriptions of parts used to make models of different years.
In years of production, it is estimated that only a few thousand were manufactured, 500 or 600 per year. Therefore, locating any of them a century later is like searching for a "needle in a haystack."
But two years ago, Knaub learned of an Atlas truck "buried" in an old barn on a property near Thomasville, where it had been parked at some point in the 1960s or 1970s and never moved again. Eventually, the barn's roof collapsed onto its contents and the deteriorating structure remained intact.
After learning about the rare car, Knaub attended Robert Rauhauser's auction "to look, not to buy." Knaub noted that Rauhauser was known as a collector of "York things" and worked for AB Farquar, one of the first equipment manufacturers.
No one in attendance at the auction got a close look at the piece "until they pulled it out," Knaub recalls. He observed silently as the bidding progressed.
"Then I made one offer and got it," Knaub said.
It was expected to be a 1923 Atlas truck, and it was in remarkably good condition, considering the truck was a century old and had been untouched for years. It was clearly in need of some cosmetic work and paint, and the bench had long since been gobbled up by critters.
Knaub was able to replace two frames, with the possibility of upgrading more when they became available from the only known manufacturer of them. With other restorers across the country seeking the same replacement parts, the wait for items like tires can be long.
"You have to stand in line to get something like this," Knaub said. He acknowledged the need for patience and a lot of creativity for collectors/restorers looking for replacement items.
It is no coincidence that his son, Michael J. Knaub (each of the three successive generations of Michaels has a different middle initial), is a machinist who graduated from the Thaddeus Stevens School of Technology in Lancaster.
Now an employee of the Strasburg Railroad Company, Michael J. became interested in the machinist's trade in his youth. This was a result of growing up helping his father create parts and solutions to repair old equipment.
"We have to make the parts," said Michael J.
With the annual Steam-O-Rama exhibition scheduled for September 28-October 1, Knaub is focused on completing important restoration work on the atlas in order to display it at the event.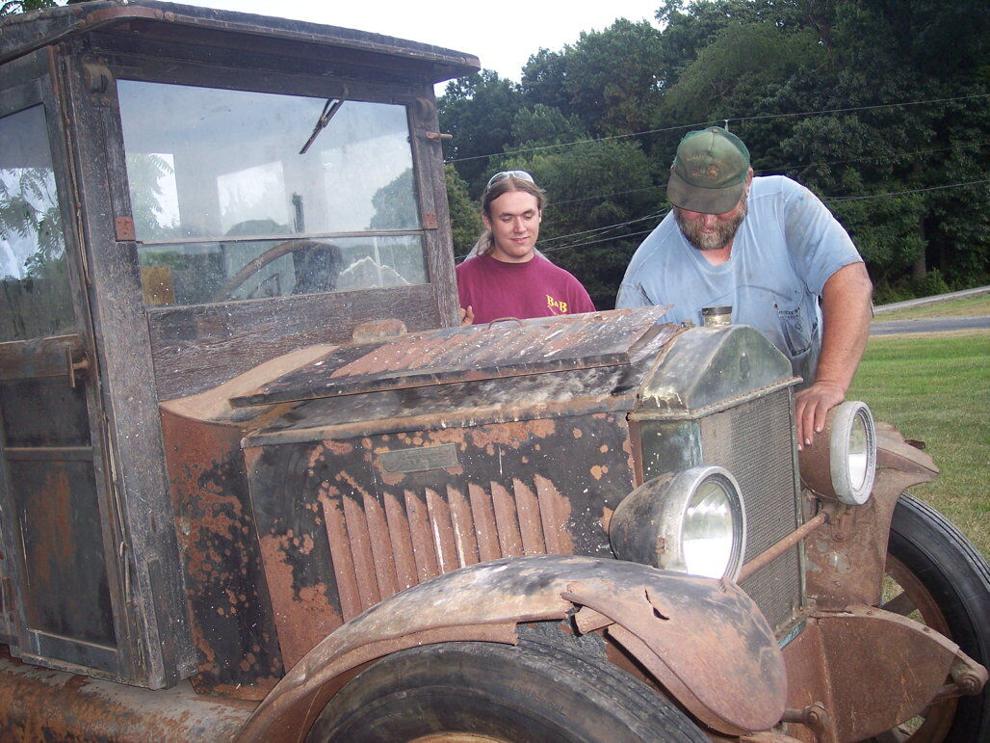 Family hobby
Members of the Knaub family have long held leadership roles in organizing and staffing the popular annual event in York County, where many pieces of their collection are on display as part of an extensive assortment of antique farm equipment and trucks.
Despite the rarity of the few remaining known Atlas trucks, this 2021 Knaub sale purchase is the second to undergo restoration by the mechanically experienced family.
They rebuilt and restored the first Atlas acquisition in nearly 20 years. Its bright, dark green exterior paint is now familiar to regular attendees of regional antique equipment shows and area parades.
Knaub said he bought his first atlas during farm show week in 2004, after seeing it advertised for sale in the pages of Lancaster Farming.
"I went to look at it one Saturday night," he said of making a quick trip to Willow Street to buy it for $1,500 from Paul Vaughn, who was a Pullman collector.
"It looks like it may have hit a tree. It had the running gear and everything mechanical, but the radiator was gone and the cab was gone," Knaub said. "There was some welding on the engine and some were rebuilt."
Vaughn had some photos and information about the truck model, which he shared with Knaub. With this fairly simple background on the Atlas, as well as his mechanical and machining prowess, Knaub was able to fabricate the parts needed to bring the 1923 truck back into running order.
The first restored Atlas — with the Open Gate Farm and Knaub family names artistically written on the doors — will likely make some tours of the Steam-O-Rama grounds. Even the younger members of the Knaub clan love getting behind the wheel and taking it around.
Knaub said a fellow collector once reacted with surprise and concern about letting "kids" drive the restored rarity…and about what would happen if they broke something.
"I told him I built almost everything on that truck, and I could build it again," Knaub said. "We don't secure our restorations with ropes or tape. We want people to enjoy them."
"It's about having a good time with them," echoed his mother, Sue Knaub, who shared many memorable moments and challenges in tracking down forgotten vintage trucks or equipment and bringing them back to life, sometimes badly damaged, trucks.
The family also operates the steam engine for shows, with a strong emphasis on safety and care when operating a piece of equipment fueled by wood, extremely hot water and potentially dangerous steam, among crowds of interested attendees and fellow collectors.
A bystander at one of the shows, who saw the sheer amount of work it took to get the huge steam engine up and running, eventually made a remark that still makes Mike Knaub laugh.
"He said, 'You guys work hard to have fun,'" Knaub said with a laugh at his summation of the family's labor-intensive hobby.
"And that's what it's all about," Knaub said of the camaraderie and relationships that develop between vintage gear enthusiasts. "It's about the friends you make and the fun you have."
With this philosophy in mind, the Knaub family is already looking forward to June, when the National Antique Truck Historical Society of America will hold its annual gathering and show at the York Fairgrounds.
Among the hundreds of restored pieces of American trucking history on display, there will likely be a collection of meticulously restored and operated vehicles that reflect the dedication and "work hard to have fun" spirit that continues to connect multiple generations of the Knaub family.