Toyota Tacoma TRD Sport and TRD Off-Road: What are the differences?
Spotting the Toyota Tacoma TRD is a breeze, thanks to the bold TRD badging that adorns the truck bed. But here's the twist: some cars bear the word "Sport," while others proudly display the word "Off-Road."
At first glance, they may look like twins, but dig a little deeper, and you'll find that the off-road version commands a $1,300 premium. Why are you asking? Both of these beasts stand head and shoulders above quieter Tacoma versions like the SR or SR5, thanks to their aggressive lift and rugged off-road tires.
While the SR is the humble starting point in the Tacoma's lineup, the SR5 adds a touch of flair and options. Climbing the stairs, you bump into the Sport model, and just when you think it can't get any better, the Off-Road model steps in, flexing its muscles.
For those with a penchant for luxury and high performance, the Limited and TRD Pro await, albeit at a hefty price. So those interested, what is TRD calling you?
What does TRD mean in Toyota trucks?
In the world of Toyota trucks, the acronym "TRD" is considered a badge of honor. TRD, which translates to Toyota Racing Development, was born with the adrenaline of the race track in mind, with the goal of crafting racing legends under the Toyota banner. While TRD's roots are firmly established in the racing scene, it has evolved over time.
Today, it's not just about speed and racetracks; It's a sought-after trim level that can be found adorning everything from the now-defunct Avalon sedan to the roomy giant Sequoia SUV.
Dive into the Tacoma TRD lineup, and you're in for a treat. These trucks aren't just about aesthetics; It has beefed-up shocks and noticeable lift, especially when placed side by side with the base SR model. but this is not all.
The Tacoma TRD opens the doors to a wealth of options. Would you like a bird's eye view of your truck? Choose a panoramic camera that provides a comprehensive 360-degree perspective. Want more comfort and control? Power seats, hill start control, and countless other features are all at your fingertips.
For those looking for the pinnacle of off-road prowess, the TRD Pro Edition is the crown jewel. It features premium Fox shocks, an extra layer of ground clearance, and strong aluminum skid plates to protect its underbelly.
But there's a problem: The TRD Pro boasts its power with a bed that's only five feet long. So, whether you're an off-road enthusiast or someone who loves luxury with a touch of adventure, there's a TRD waiting for you to suit your taste.
Common themes in TRD trucks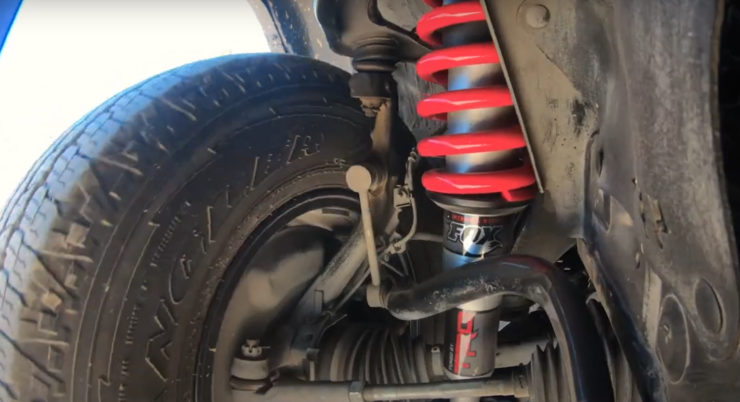 When you delve into the world of Toyota's TRD trucks, you'll find a symphony of similarities that make them unmistakably TRD:
Ample configurations: Whether you lean toward the Access Cab with its two-door charm and six-foot bed, or the more spacious Double Cab that offers a five-foot and six-foot bed, the choice is yours.
Power under the hood: No matter which TRD you have your eye on, it all comes alive with a 278-horsepower V6. And hold on to your hats, because whispers in the driveway lanes point to a more powerful engine by 2023.
Driving options: Whether you're an off-road enthusiast who yearns to drive a four-wheel drive vehicle or someone who's satisfied with two-wheel drive, TRD has you covered. However, a word to the wise: spotting a two-wheel drive off-roader is like finding a needle in a haystack. As for fuel efficiency? Expect about 18 mpg city with all-wheel drive, and a slight bump to 19 mpg if you choose two-wheel drive.
A reference to tradition: For those who still enjoy the tactile pleasure of shifting gears, the Tacoma TRD Sport and Off-Road will not disappoint. Yes, the six-speed manual gearbox is still on the menu!
Inner feelings: Slide into the cabin of the TRD truck, and you'll be greeted with a well-appointed interior. While it exudes a sense of sophistication, it stops short of venturing into the realm of luxury.
Compare Toyota Tacoma trim levels

mpg combined
engine
Horse power
payment system
Sitting
benefits
2023 Toyota Tacoma SR
211
2.7 liter four cylinder
159
Rear wheel drive
4
Color-keyed rear bumper and door handles, deck rail system with adjustable tie-downs, 4-way adjustable driver seat with lumbar support, cloth upholstery, 7-inch touch screen
2023 Toyota Tacoma SR5
211
2.7 liter four cylinder
159
Rear wheel drive
4
Chrome rear bumper and color-coded door handles, available lockable storage space, 16-inch steel wheels, Bluetooth® compatibility, power-sliding rear window with privacy glass, six-speaker sound system, 8-inch touchscreen
Toyota Tacoma Trail 2023 Special Edition
201
3.5L V-6
278
4WD Part-Time 4WD Demand
5
Black badge, dual-zone front climate control with individual temperature settings, Toyota Safety Sense, 10-way power-adjustable driver's seat with 2-way lumbar support, push-button start, power-sliding rear window with privacy screen
Toyota Tacoma TRD Sport 2023
211
3.5L V-6
278
Rear wheel drive
4
Color-coded door handles, upper spoiler, rear bumper, 17-inch alloy wheels, leather-wrapped shift lever, wide-angle integrated fog lights, color-coded integrated rear spoiler, Qi-compatible wireless phone/mobile device charging
Toyota Tacoma TRD 2023 off-road
211
3.5L V-6
278
Rear wheel drive
5
Auto-dimming day/night rearview mirror, 16-inch alloy wheels, projector headlights with LED daytime running lights, gray grille with smoked finish, cloth upholstery, available power tilt/power sunroof with power cover
2023 Toyota Tacoma Limited
211
3.5L V-6
278
Rear wheel drive
5
Auto-dimming day/night rearview mirror, heated leather seats, premium audio system and dynamic navigation system on 8-inch touchscreen, LED headlights with LED daytime running lights, silver grille with front camera
Toyota Tacoma TRD Pro 2023
201
3.5L V-6
278
4WD Part-Time 4WD Demand
5
TRD Pro Black leather-trimmed heated front seats, TRD Pro shift knob, remote keyless entry with lock, Active Traction Control (A-TRAC), heritage-inspired "TOYOTA" grille with camera, Toyota Safety Sense , and multi-colored terrain monitor with camera
Tacoma TRD Sport: Road Warrior
The Toyota Tacoma TRD Sport doesn't just make a statement; That roars. One look at this massive hood scoop and you'll be instantly transported to the golden age of American muscle cars from the 1960s. While this scoop may be more about aesthetics than aerodynamics, it screams "sporty" in the eyes of every spectator.
But TRD Sport isn't just about looks. Beneath its rugged exterior is a sport-tuned suspension system that has been meticulously engineered for those who crave the thrills of the open road. This isn't your typical off-road setup; They're stiffer, more flexible, and designed specifically for runway adventures.
Adding to its street-smart character, there's a body-colored bumper adorning its front and matching fenders that highlight its sporty appearance. It's a harmonious blend of style and performance, all starting at a competitive price of $34,335.
In essence, the Tacoma TRD Sport is for those who want their truck to be nimble on city streets and look eye-catching. It's a nod to the past with an unwavering vision for the future of road-focused adventures.
Tacoma TRD Off-Road: Born for the Wild
When you hear "Tacoma TRD Off-Road," think rugged terrain, uncharted trails and the thrill of adventure. As the name suggests, this beast is made for the untamed.
The difference lies in the details. The TRD Off-Road features the innovative Multi-Terrain Select system with Crawl Control. Whether you're navigating treacherous mud, shifting sand, loose rocks, or challenging moguls, the Multi-Terrain Select system has your back. And if you find yourself in a sticky situation, Crawl Control is your ticket out, effortlessly pulling the truck out of even the deepest sand.
At $35,590, the TRD Off-Road may be a little more expensive than the Sport, but what you're investing in is unparalleled off-road prowess. Those Bilstein shocks? They're finely tuned to allow off-roaders to dance over rocky terrain with an ease the sport can only dream of. And the cherry on top? A locking rear differential is standard, ensuring maximum traction when you need it most.
Aesthetically, the off-roader features a matte black front bumper and matching wings. Why matte black you ask? Well, it's off-road armor against the inevitable battle scars from wild adventures in the jungle or deserts. To further protect its heart and soul, the Off-Road is equipped with skid plates, protecting the engine and suspension from the rough and tumble of wildlife.
For those who view their truck as more than just a vehicle—as a companion for work, play, or a dream of an epic road trip—the TRD Off-Road, with its optional six-foot bed, is the undisputed choice.
Instructions
1. What is the Tacoma TRD Off-Road Package?
The Tacoma TRD Off-Road Package is designed for the serious off-road enthusiast. It includes features like Multi-Terrain Select with Crawl Control, specially tuned Bilstein shocks, a locking rear differential, a matte black front bumper and fenders, and skid plates to protect the engine and suspension. This package is ideal for those who frequently venture into difficult terrain and need enhanced off-road capabilities.
2. What is the TRD Sport Package?
The TRD Sport Package is designed for those who prefer a combination of agility and elegance on the road. It features a sports suspension, a distinctive scoop on the hood reminiscent of 1960s American muscle cars, body-colored bumpers, and fender flares. Although it has some off-road capabilities, its primary focus is on off-road performance and aesthetics.
3. Can the Tacoma TRD Sport be off-road?
Yes, the Tacoma TRD Sport can handle off-road terrain, but it's designed primarily for off-road performance. While it may not have all the specialized off-road features that the TRD Off-Road Package offers, it's still capable of taking on mild off-road challenges.
4. Is TRD Sport better than SR5?
"Best" is subjective and depends on individual needs. The TRD Sport offers a sport-tuned suspension and aesthetic upgrades over the SR5. However, the SR5 is a mid-level model that offers a balance of features and value. If you're looking for a sportier look and feel, the TRD Sport may be the better choice. If you want a well-rounded truck without the sporty refinements, the SR5 might be ideal.
5. What is the best year for a Toyota Tacoma?
The "best" year for a Toyota Tacoma often depends on specific needs and preferences. However, many enthusiasts and experts praised the 2015 model for its reliability, performance and features before it was redesigned in 2016.
6. How fast is the Tacoma TRD Sport?
Powered by a 278-hp V6, the Tacoma TRD Sport can accelerate from 0 to 60 mph in about 7.7 seconds. However, actual performance can vary based on factors such as load, terrain and conditions.
Final words
The Toyota Tacoma, with its TRD packages, offers a combination of performance, style and versatility. Whether you're an off-road adventurer or a city commuter, there's a Tacoma designed specifically for your journey. The TRD Off-Road Package tempts the wilderness spirit at heart, while the TRD Sport is for those who crave a combination of urban agility and rugged charm.
Each model, from the SR5 to the TRD variants, embodies Toyota's commitment to quality, performance and style. Choose your Tacoma, and let the adventures begin!