Toyota's electric minivan concept imagines flexibility of use in a nice package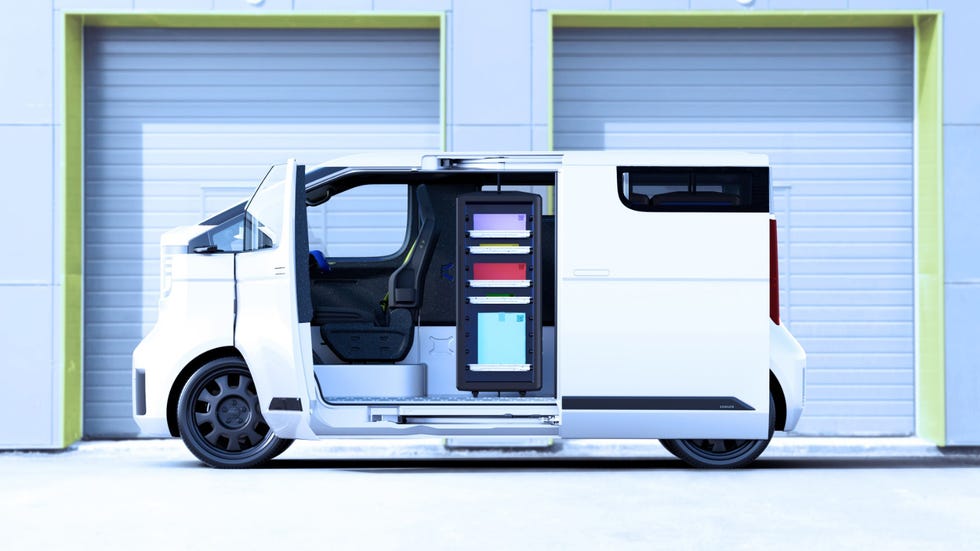 The Toyota Kaiweibaku concept unveiled at the Japan Mobility Show showcases the versatile interior of an electric minivan, designed to be reconfigured for different tasks.
The concept features a transparent front fascia, with a thin bridge of displays dividing the dashboard.
The concept itself is just 157 inches long, making it significantly shorter than a modern Toyota Prius.
---
Traditionally, the Tokyo Motor Show (now known as the Japan Mobility Show) has never been short of small, boxy minivan concepts. But these concepts are now electric.
Toyota used the Tokyo event to unveil one of its smallest electric vehicle concepts to date, with the Kayoibako concept, named after its reusable shipping containers, bringing electric power to a small but versatile model.
Designed as a small, reconfigurable van, the Kayoibako is aimed at commercial and private owners alike, making clever use of the interior to maximize its interior space.
The concept is designed to be a delivery van on workdays, but capable of transforming into a camper van of sorts on weekends.
"At our automotive plants, we use configurable shipping containers called 'kayoibako' to transport all types of parts connecting our work sites," explained Koji Sato, President and CEO.
"This mobility plays the same role in society."
With an overall length of 157 inches, the Kaiwebaco is about two feet shorter than a modern Prius. But the lack of a long nose, as well as the sheer height of something this size, still provides the driver with plenty of interior space.
Perhaps the most striking part of the interior is the slim dashboard, which acts as a bridge with an integrated display, with glass below providing the driver with additional visibility. The lack of an engine at the front, or anywhere else, allows the nose to be largely transparent.
The steering system, something that's now slowly being rolled out by Toyota and Lexus, also buys the driver some extra visibility.
As Toyota has shown, the Kaiwibaco is equally suitable as a delivery van as a mobile office or even a small mobile store. Meanwhile, the truck's battery-powered electric platform also means it has a flat floor that's not obstructed by a transmission tunnel or anything else for that matter, which makes rearranging the interior much easier and also allows for wheelchair access.
"It can serve as community mobility, allowing easy access for wheelchair users, serve as a remote office, and can be used as a mobile store," Sato added.
As much as we'd like to see minivans and electric vehicles appear in the U.S., Toyota's experience with minivans that double as passenger vehicles is probably mixed at best.
The defunct Scion brand wasn't as popular with its younger customer base as it was with the older demographic — one that could afford new cars and that tended to buy Toyotas. After the Scion's departure, Toyota and other automakers moved away from small, cube-shaped cars. The Honda Element and Nissan Cube were also part of that wave.
While there's no danger of Toyota relaunching such vehicles in the US any time soon, we can't help but notice that BMW is heading in that general direction with the electric Countryman, due next year.
Will there be demand in the United States for vehicles of this size in the future, or will automakers move away from compact, boxy models? Let us know what you think.

Guy Ramey grew up around very exotic European cars, and instead of looking for something reliable and comfortable for his personal use, he was drawn to the more adventurous side of the reliability spectrum. Although French cars have been following him over the past decade, he has somehow managed to avoid ownership of a Citroën, considering it too mundane, and is currently eyeing cars from the former Czechoslovakia. Jay has been with Autoweek since 2013.