Volkswagen gives the first glimpse of the all-electric ID.7 Tourer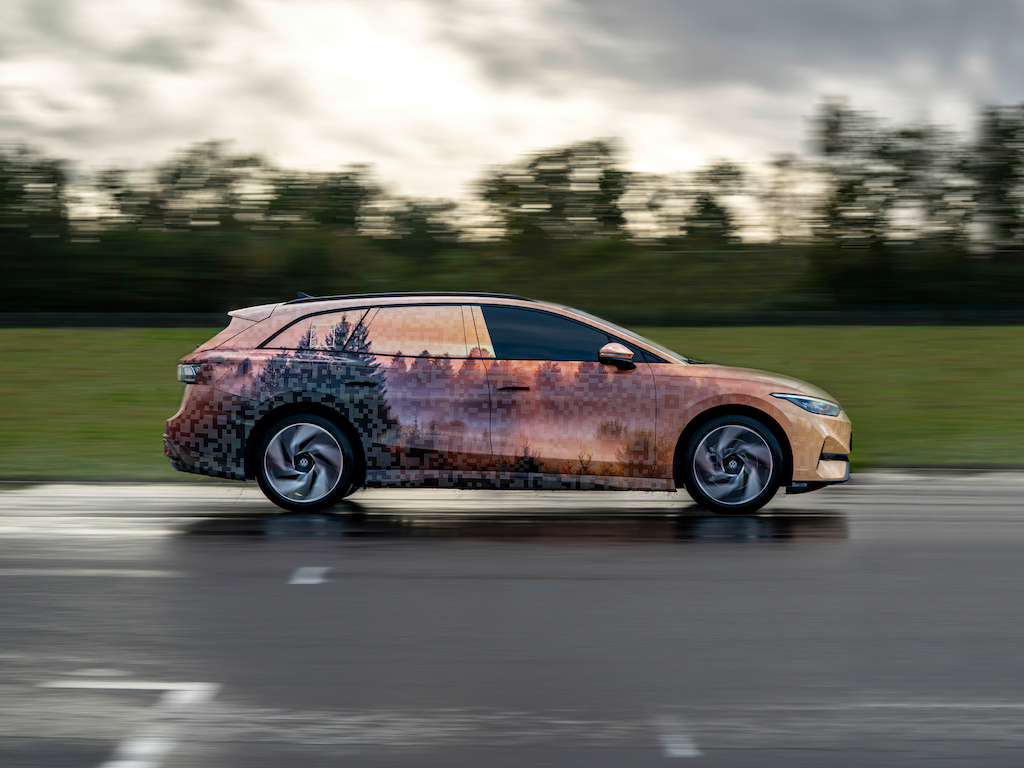 Volkswagen has previewed its first-ever all-electric car ahead of its European launch next year.
This slideshow requires JavaScript.
The ID.7 Tourer will join the ID.7 saloon currently being launched, offering a more practical shape said to offer plenty of space and efficiency. This will build on the brand's more than 60-year heritage in estate development, most recently models such as the Passat or the Arteon Shooting Brake that the ID.7 Tourer indirectly replaces.
Designed in camouflage with QR codes integrated into the back, it is based on the MEB platform used across the Volkswagen Group for models such as the Skoda ENIAC and Audi Q4 e-tron.
In the case of the ID.7 Estate, it has been designed to give "the character of a stylish full-size hatchback version with a particular sense of generous space and increased boot volume".
The cabin is said to offer plenty of space for passengers thanks to the short overhangs and long wheelbase, while the boot capacity is 545 litres, rising to 1,714 litres, and a cargo space nearly 2 meters long with the rear seats folded.
The sleek shape also delivers an aerodynamic efficiency of Cd of 0.24; Almost the same 0.23 as the saloon.
As with the ID.7, the Tourer will be produced at Volkswagen's plant in Emden, northwest Germany.
There's no word on the powertrain yet, but the ID.7 saloon is available in two versions: the ID.7 Pro model with a 77kWh battery offering up to 382 miles of official WLTP range and the Pro S derivative with an 82kWh pack The clock for WLTP range is 435 miles. Both feature a newly developed 286 hp single motor that is the most powerful and highest-torque electric motor in a Volkswagen ID. model so far. A dual-motor all-wheel drive version of the ID.7 saloon is also planned.
The ID.7 Tourer is one of 11 new electric models that Volkswagen will launch from 2023 to 2027. Other upcoming models include the new ID.3 and the long-wheelbase ID. The Buzz was launched this year, which will be followed by a compact electric SUV in 2026 and the production version of the ID. 2all – which will be priced at less than €25,000 (about £22,000). Volkswagen says this will give it the widest range of electric cars compared to its competitors. It also aims to achieve an 80% electric vehicle share in Europe by 2030 ahead of plans to produce only electric vehicles in Europe by 2033.