Watch the Ford F-450 Super Duty King Ranch pack its giant heart in two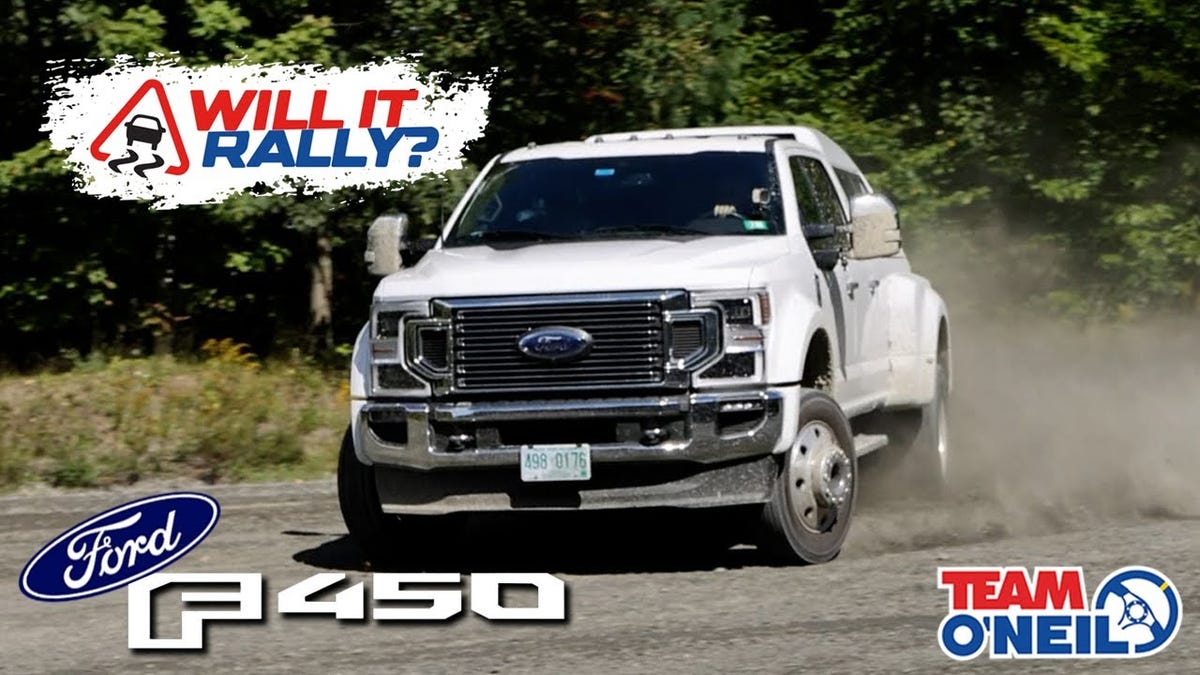 People like to put cars in situations they were not originally designed for, e.g Miatas off-road And Swipe trucksand while seeing a Ford F-450 Super Duty King Ranch double-crossing a gravel track wasn't on our bingo card, it sure is cool!
Here's a cheap way to track your bike
Friends of the O'Neill Rally Team School website It contains a series of YouTube videos called Will you gather?, Where head trainer Wyatt Knox takes the car out on a gravel track and pushes it to within an inch of its life to determine that question that has plagued humanity for generations: Will it rally?
Previous cars range from high-performance cars such as the first-generation Porsche Cayman to the Kia Sedona minivan To Toyota Tacoma, but this episode contains something even more mysterious: the Ford F-450 Super Duty King Ranch dual-tow platform. Now, logic dictates that this mammoth truck would be hopeless on a path suitable for purpose-built rally missiles, lumbering through turns and heading toward oblivion, but Knox chalks this up to science.
Knox begins by pulling the three ABS valves to disable any stability control or ABS intervention while he conducts his experiments. The experiments in question begin with him swinging the massive rig around a makeshift gravel ski pad in the forest to allow him to get a feel for how this giant performs the rally part.
Ford F450 King Ranch. Will you rally?
Obviously, an unladen F-450 Power Stroke Diesel has plenty of rear wheel disengagement — all four rear wheels on this dual-twin model — but that doesn't mean the truck's other characteristics are suited to sideways sliding and cake-diving. Surprisingly, Knox finds the massive behemoth admirably docile on gravel, even comparing its dynamics to those of a BMW. Whether that's a compliment to the Super Duty or a dig at BMW is up to interpretation, but it seems to be a compliment to the Super Duty's dynamics.
Once Knox moves beyond the safety zone provided by the wide-open ski rig and starts flinging the big rig down a narrow, twisty forest road, things get a little tenser. Once again, the Super Duty seems to impress Knox. The big drawback to the truck's driving dynamics is its large size. It's a huge machine that traverses a narrow, gravel mountain road surrounded by ancient trees, but Knox doesn't take it easy at all.
Despite some tense moments, the F-450 Super Duty dances around tight turns and powers through the complex gravel track with impressive composure. Knox makes it look easy when he winds this truck down at speeds around 65 mph.
Overall, the truck seems to perform very well and Knox was impressed with how obedient the Super Duty was. It was the slowest race he'd ever recorded, but the sheer insanity of honing an 8,500-pound, six-wheeled, towing hog that produces 1,000 lb-ft of torque down a gravel mountain road at highway speeds is still very impressive.
(Tags for translation) Super Duty